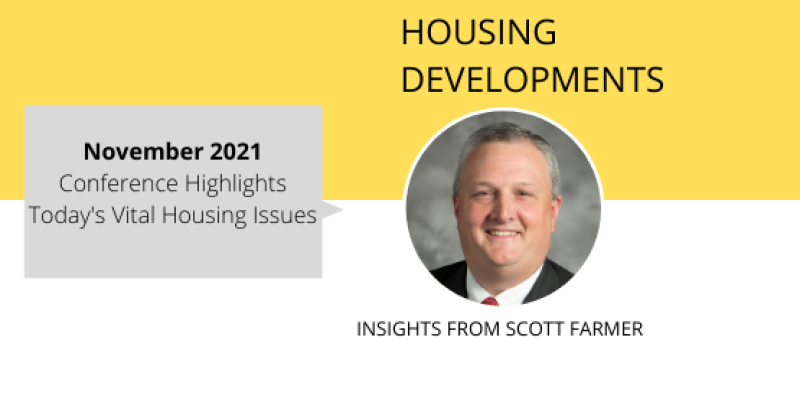 I'm pleased to share that last month's NC Affordable Housing Conference was a huge success, building a virtual world that attracted more than 550 attendees and top speakers from around the country. Among those speakers were Michael L. Browder, Sr, region IV deputy regional administrator at the US Department of Housing and Urban Development; and Mandy Cohen, MD, MPH, secretary of the NC Department of Health and Human Services, who keynoted the event. Browder and Cohen kicked things off by discussing two vital issues in housing today: the connection between housing and health and continuing racial disparities in the housing system.
Both speakers noted that COVID-19 significantly worsened housing accessibility and affordability, particularly for those already struggling. Browder pointed out that nearly 11 million households spent more than half their incomes on housing before the pandemic hit, a number that grew significantly as COVID-19 took hold, disproportionately impacting households of color and those with lower incomes.
Cohen stated that the pandemic reaffirmed that housing has always been a public health issue, especially homelessness. She noted that housing insecurity makes it difficult for people to comply with public health measures like social distancing and quarantining and that families facing eviction were less likely to find employment and services during the pandemic. Recognizing the efforts of North Carolina housing professionals, Cohen shared how emergency shelters mobilized to make their environments as safe as possible by depopulating shelters, implementing stricter cleaning policies and moving high-risk individuals out of congregate settings.
Emphasizing the strong link between health and housing, Cohen stated that a successful and resilient housing system that supports health needs affordable options, adequate incomes and appropriate services. She emphasized the need for public health and health care partners to be part of the conversation and for new funding sources to grow housing capacity.
Both speakers stressed that long-term racial disparities in housing must be addressed and discussed how families of color continue to face discrimination when trying to secure mortgages, having their homes appraised, and living in neighborhoods where their families can thrive. Browder noted that the home ownership gap between white and Black Americans is at its widest point since 1968, before Fair Housing Act became law. Cohen shared that Black and Hispanic are more than twice as likely to report being behind on their payments than white households, facing eviction and foreclosure at much higher rates.
HUD is working to create and preserve nearly 100,000 affordable homes across the country, according to Browder, who discussed a proposed initiative to improve home buyer assistance and new FHA programs to remove barriers to home ownership. To that end, HUD has published proposals to affirmatively further fair housing and counteract discrimination, including better enforcement under fair housing laws to end discrimination in home appraisals.
Browder and Cohen both expressed gratitude for the work of their audience and optimism for the future.
"Housing is a fundamental platform to help solve our most urgent challenges. A home is more than four walls and a roof, it's our bedrock—a place that serves as a bridge to greater opportunity and a better life. A home can connect us to better jobs, affordable transportation, communities with cleaner air and water—a place to build wealth for generations to come." – Michael L. Browder, Sr.
"Cementing connections of health and housing to build strong partnership, acknowledging disparities and implementing equity strategies and working quickly will help us meet our goal to ensure all North Carolinians have a home to live in with dignity and opportunity." – Mandy Cohen
We thank these and all our speakers for their contributions to this year's conference, our partners and sponsors who made the event possible and all of you who took the time to join us and collaborate on how we can improve housing opportunities to make a better North Carolina.