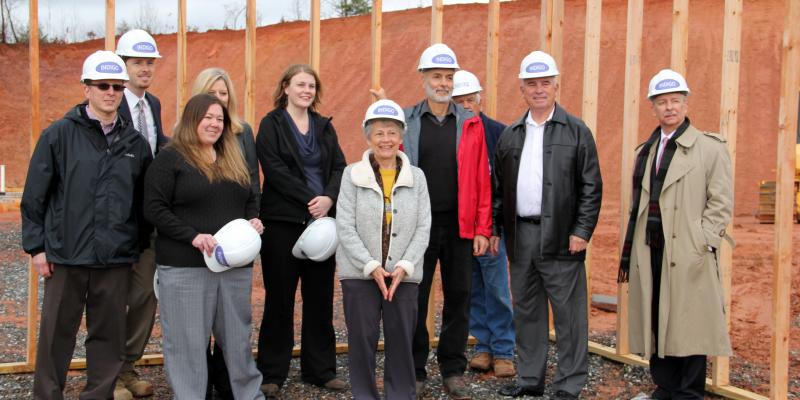 A frame raising ceremony for Indigo will be held Monday, December 6, at 1 p.m. Workforce Homestead Inc. of Tryon is developing the apartment community for working families using Housing Credits awarded through the North Carolina Housing Finance Agency.
Date/Time/Location:   December 6, 2016; 1 p.m.; 299 Siler Road Franklin, NC 28734
Onsite Contact:           Jim Yamin, Workforce Homestead Inc.; 828-351-9151; Troy Hershberger, N.C. Housing Finance Agency, 919-981-2647.
Consisting of three buildings, Indigo features 12 one-bedroom, 30 two-bedroom and 18 three-bedroom apartments. Rents range from $480 to $655. The apartments are available for households who earn up to $29,000 for a family of four.
Indigo, a smoke-free development, meets the requirements for project-wide Energy Star 2.0 certification. Amenities for residents include a separate community building with a multi-purpose room, computer center, fitness center and coin-operated laundry. Residents also have access to a playground, tot-lot, covered picnic and grill and sitting areas. The development is conveniently located in the southern area of the city that is experiencing significant new development.
The $7.6 million development is being financed in large part by federal and state tax credits and loans awarded by the N.C. Housing Finance Agency. Lenders and investors include Churchill Stateside Group, Community Affordable Housing Equity Corporation (CAHEC) and Wells Fargo Bank.
"Indigo will provide safe, affordable and comfortable homes for working families in Franklin, and will be an attractive addition to the town," said Bob Kucab, executive director of the N.C. Housing Finance Agency.
Construction on Indigo is expected to be completed by May 2017.
The North Carolina Housing Finance Agency, a self-supporting public agency, has financed 242,000 homes and apartments since its creation in 1973.