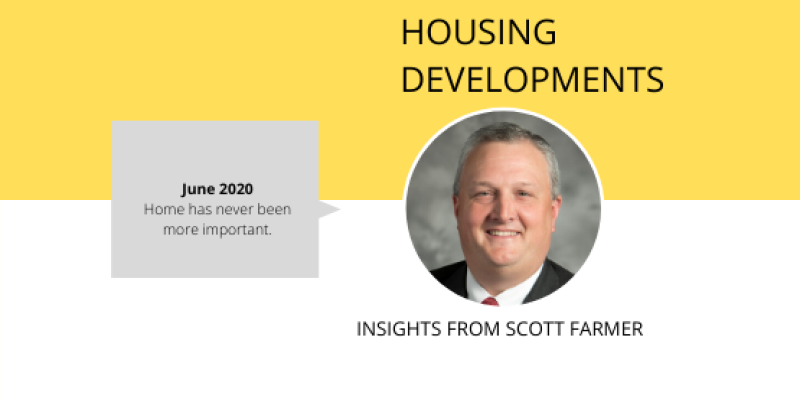 This June is National Home Ownership Month and like a lot of things these days, it looks much different than in years past. Concerns about COVID-19 have caused both sellers and buyers to think twice about entering the home market during the past few months— real estate agents responding to a May survey by the National Association of Realtors reported that 40% of buyers and 45% of sellers said they would delay the process because of coronavirus.
There's no doubt that the spring home buying season has been impacted by COVID-19. Nationally, purchase applications were down more than 30% in the first week of April over the same time last year. In North Carolina, traditionally strong markets such as Raleigh, Charlotte and Greensboro also saw decreased sales in April, although fortunately not at national levels.
This decrease has been partially driven by fewer homes coming onto the market, which has propelled prices up and diminished the availability of affordable options. For example, the Raleigh News and Observer reports that while home sales in the Triangle market dropped more than 6% in April, the number of new home listings fell more than 23% at the same time, resulting in more competition for homes and subsequent higher prices.
And while the housing market cannot completely start functioning as normal as long as the threat of the virus remains high and impacts on the economy continue, low interest rates and technologies such as Zoom and 3D tours are showing signs of thawing the market and bringing more buyers back out. While good news for the housing market overall, more buyers can make it more difficult for those purchasing their first homes to enter the market. Even when first-time buyers feel more confident in the economy and their ability to safely house-hunt, they may believe a high-priced market with low inventory has put home buying out of their reach.  
That's why we've launched our Home Has Never Been More Important campaign for National Homeownership Month. Our message acknowledges that a transformed world may have put the possibility of a new home on hold, emphasizes how home has become more important than ever and what that means for potential home buyers and reminds North Carolinians that when they're ready to buy, our Agency and its partners will be here. The Agency is also launching a new bimonthly newsletter—Get the Keys NC: Tips for Home Buyers—to help buyers better prepare themselves to purchase a new home.
Throughout this pandemic, we've continued to offer our NC Home Advantage suite of products, including down payment assistance, and have worked hard to make sure that home buyers know these programs remain available to help them when they are ready. We encourage our lending, real estate agent and community home ownership partners to celebrate National Home Ownership Month by sharing the Home Has Never Been More Important campaign and the new Get the Keys NC: Tips for Home Buyers newsletter with your clients. By working together with partners like you statewide, we can help would-be buyers understand how our home buying resources and mortgage products can help them realize the possibility of home ownership every day.