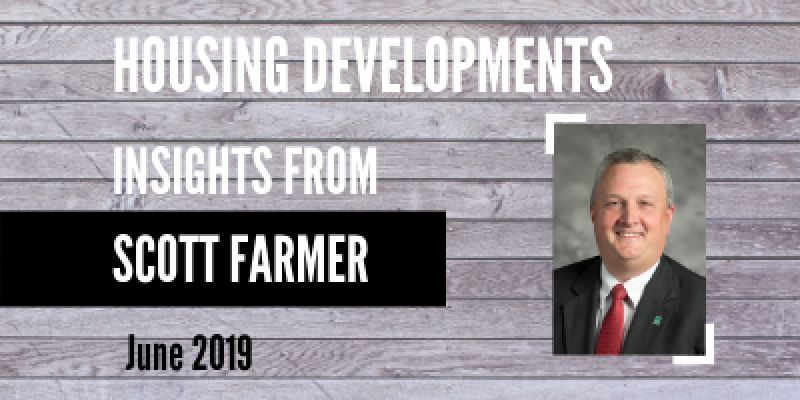 While the first National Home Ownership Month was recognized in June 2003, the celebration and promotion of home ownership began nearly 50 years earlier with American Home Week in June 1956. It was in the 1950s that the proverbial house, yard and white picket fence became synonymous with the American Dream.
Today, home means so much more–home means possibility. This year, our Agency is commemorating National Home Ownership Month with #HomeMeansPossibility, a campaign encouraging would-be home buyers to discover what their possibilities could be as homeowners. For some, it's space for a growing family, whether it be more bedrooms for children or a yard for a pet. For others, it may mean the chance to entertain more, or alternatively, a space they can call their own.
For all of us, home means the possibility of a secure financial future. The home is the largest store of wealth for most Americans, especially those with lower incomes. For families earning less than $50,000 per year, home equity makes up 55—72% of total household assets. Owning a home can be instrumental in helping those with lower incomes access a middle-class lifestyle.
Home ownership benefits for families don't stop with their finances. Research shows that children of homeowners do better in school, attaining higher math and reading scores and exhibiting lower rates of crime and drug use. Studies also have found that these children reach higher levels of education, earn an average of $11,000 more per year as adults and are more likely to someday own homes of their own than children of renters.
High home ownership rates help build strong, stable communities by stabilizing neighborhoods and boosting resident engagement. In addition to bolstering local tax bases, home ownership encourages property upkeep, which leads to higher home values. In addition, research indicates that homeowners tend to be more civically engaged, volunteer more in their communities and live in their homes longer than non-homeowners.
The good news is that a growing number of Americans are realizing the dream of home ownership: the home ownership rate of 64.8% at the end of 2018 represents a four-year high, continuing a trend of steady growth since 2016's all-time low.
The bad news?  Many Americans are still being kept out of the housing market. While housing experts predict this will be the year of the millennial home buyer, a large subset of that generation remains plagued by low wages and high student low debt. Together, these challenges make saving for a down payment difficult.
Another troubling trend is the decreasing home ownership rate among African Americans. The Joint Center for Housing Studies 2018 State of the Nation's Housing report found that their home ownership rate in 2017 was 43%, among the lowest it has been since passage of the 1968 Fair Housing Act. The number reflects stagnant rates in black homeownership, which grew just 0.3% between 1994 and 2016.
Our Agency and its partners have the tools to make a difference. The NC Home Advantage Mortgage™ and its down payment assistance has been a proven bridge between underserved borrowers and home ownership.  In 2017, 77% of NC Home Advantage Mortgage™ loans were made to individuals and families earning less than 120% of their area median income, while only 55% of overall mortgage loans made in North Carolina went to borrowers in this income bracket. Similarly, about 38% of NC Home Advantage Mortgage loans were made to minority (non-white) borrowers, versus just 17% of all mortgage loans in the state.
Our challenge remains to get the word out statewide about these affordable mortgage products. As we launch our new Home Means Possibility campaign this month, we invite our home ownership partners to share the message with their clients and in their communities. You can learn more about the campaign and available resources in this newsletter.
Home means possibility. Let's make this National Home Ownership Month count by continuing to help all North Carolinians unlock the door to their possibilities.