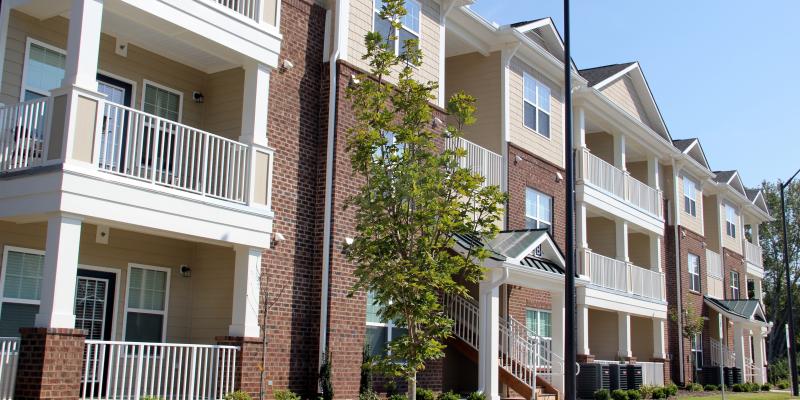 A grand opening ceremony for Sienna, a new family housing development, will be held Thursday, August 25, at 11 a.m. The community is being developed by Workforce Homestead Inc., of Tryon, and Align Development, LLC, of Wake Forest using Housing Credits awarded through the North Carolina Housing Finance Agency.
Date/Time/Location:       August 25, 2016; 11 a.m.; 607 Valdese Avenue, Morganton
Onsite Contact:                Jim Yamin, Workforce Homestead Inc.; 828-351-9151; Troy Hershberger, N.C.   Housing Finance Agency, 919-981-2647.
Sienna features 12 one-bedroom, 40 two-bedroom and 24 three-bedroom apartments for working families. Rents range from $303 to $650. The apartments are available for households that earn no more than 60 percent of the median income for Burke County, currently $31,380 for a family of four.
The smoke-free development meets the requirements for Energy Star 2.0 certification. Amenities include a separate community building containing a multi-purpose room with kitchen, computer center, fitness center and coin-operated laundry, as well as a playground, tot lot, covered picnic/grill area and several outdoor sitting areas. Sienna is conveniently located next to Mountain Crest Elementary School and within easy driving distance of downtown Morganton.
The $9.2 million development is being financed in large part by federal and state tax credits and loans awarded by the N.C. Housing Finance Agency. Lenders and investors include Community Investment Corporation of the Carolinas (CICCAR), Community Affordable Housing Equity Corporation (CAHEC), Unifour Housing Consortium/Western Piedmont Council of Governments and Carolina Bank.
"Our intention is to set a new standard in the community for rental housing that is not only the most desirable but also the most affordable," said Jim Yamin of Workforce Homestead.
"Sienna provides a safe, comfortable and affordable neighborhood for working families in Morganton and will be an attractive asset for the surrounding community," said Bob Kucab, executive director of the N.C. Housing Finance Agency.
The North Carolina Housing Finance Agency, a self-supporting public agency, has financed 242,000 homes and apartments since its creation in 1973.