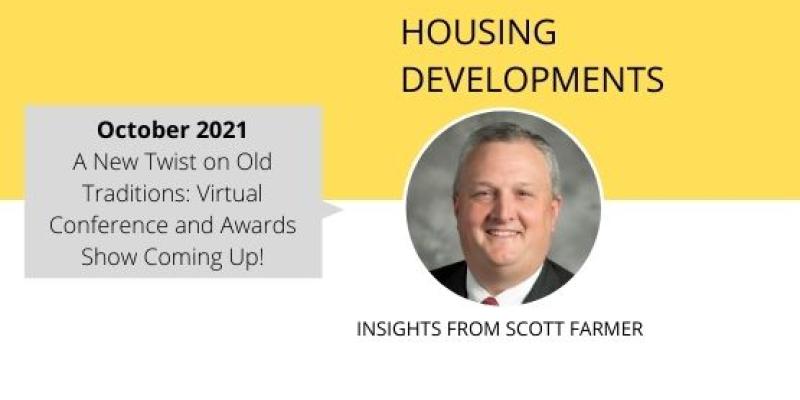 The beginning of October brings us much more than a break from warm temperatures and the crazy summer season—for those of us in the affordable housing industry, it also signifies the return of the NC Affordable Housing Conference. This year, we've worked hard with our partners at Centrant and the NC Housing Coalition to bring you the quality content and networking that you've come to expect from the conference in an exciting, new virtual format that accounts for the pandemic still with us while allowing housing professionals from all over the state and beyond to attend. Join us October 14-15 from wherever you are—while this year's conference looks much different from our usual takeover of the Raleigh Convention Center, we hope this format will bring more to the table than ever before.
One of the perks of the virtual format of the conference is that we were able to secure renowned speakers from all over the state and the country. The digital world has also allowed us to craft sessions that are up-to-date and informational in a way that is accessible to everyone. From our keynote speakers DHHS Secretary Mandy Cohen and HUD's Michael L. Browder, Sr. to our highly-anticipated Industry Update with David Gasson and Bob Moss of MG Housing Strategies, to every single breakout session in between, this content will provide all you have come to expect from the conference and more.
This year's topics include housing equity and inclusion, housing infrastructure, the Low-Income Housing Tax Credit, tax credit compliance, home buyer resources, local housing needs, housing counseling training and much, much more. While we won't be able to shake hands, say hello and visit with colleagues in person this year, we hope that the 2021 NC Affordable Housing Conference will provide a virtual avenue for all of us in the affordable housing industry to meet, share information and get the skills and know-how to continue serving the people of North Carolina. Registration for the conference is now open—I hope to see you there.
And just because we can't sit down together to a delicious lunch doesn't mean our annual tradition of recognizing the very best in affordable housing through the Housing NC Awards is put on hold. Just as we did last year, we will hold a virtual Housing NC Awards to recognize this year's best in rental housing, supportive housing and home ownership. We will share links to this event via email and on social media so plan to join us from wherever you are on October 20!