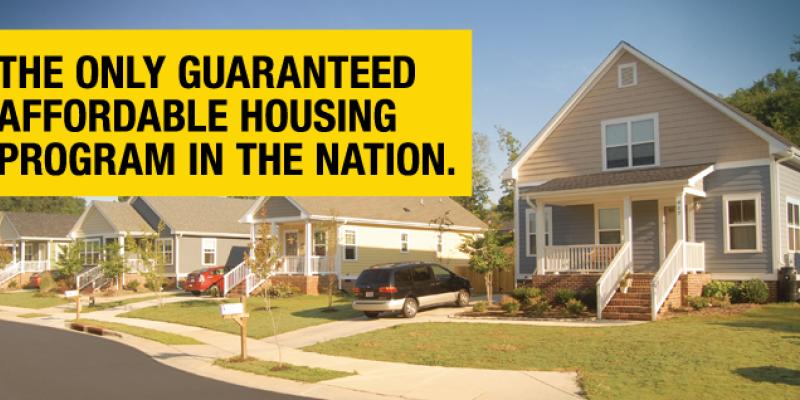 SystemVision, the nation's only affordable housing energy and comfort guarantee program, is celebrating its 20th anniversary in 2021.
Relying on a close relationship between Advanced Energy and the North Carolina Housing Finance Agency and a tremendous network of affiliates, builders, raters, tradespeople and invested partners, SystemVision has been able to build and certify nearly 6,000 homes across 62 North Carolina counties, ensuring they are healthy, safe, comfortable, durable, energy efficient and affordable.
SystemVision's roots can be found in the wake of 1999's Hurricane Floyd. Many of the homes devastated were owned or rented by low-income residents, and Advanced Energy supported the recovery effort by educating builders and local officials on how to dry and safely renovate flooded homes, and how to build durable, affordable, high-performing, energy-efficient new homes.
Seeing interest in the intersection between energy efficiency, durability and affordable housing, Advanced Energy connected with the North Carolina Community Development Initiative. The two groups developed the Star Home program, a precursor to SystemVision that provided a financial incentive to affordable housing developers that incorporated the program's standards and components.
With the foundation of an affordable housing guarantee platform set, Advanced Energy and the NC Housing Finance Agency joined forces to create SystemVision in 2001, with Advanced Energy providing program administration and the NC Housing Finance Agency supplying the incentive needed by builders and developers to participate. The program relies on whole-home building science-based practices that envision the home as a complete interdependent system. Its first projects were completed in 2002 in Grifton, North Carolina, for families who had lost their homes to Hurricane Floyd.
The NC Housing Finance Agency's involvement helped expand the program thanks to its network of nonprofit and local government partners. At the time of SystemVision's launch, development of affordable, single-family homes was on the rise to increase and improve housing stock, and helping homebuyers get into homes that remain affordable for years to come is integral to the NC Housing Finance Agency's mission.
SystemVision's goal has been to build homes for low-income families that are not only affordable to purchase but also to live in, and the first 20 years have clearly shown that the program has met that goal. Its most obvious impact has been the thousands of families — and the tens of thousands of individual North Carolinians — whose lives have been improved. These households are saving money daily and living safer and healthier lives. But the program has also had a positive effect on the broader industry.
Every home that SystemVision builds is touched by dozens of collaborators who, through trainings and the program's standards and processes, learn about the interplay between energy efficiency, affordable housing and more. In some North Carolina counties, SystemVision-certified homes have acted as sites to teach market-rate builders how to meet new energy-efficient building codes.
SystemVision has also incorporated work on existing homes and has branched out into additional affordable housing sectors. In 2009, it began contributing to the NC Housing Finance Agency's Supportive Housing Development Program, which focuses on projects that support transitional or permanent housing for individuals who are homeless, have disabilities or have other special needs.
Looking forward, SystemVision will keep striving to ensure the "affordable" stays in affordable housing. It will continue to improve its processes and maintain and grow the relationships that are vital to its success.
"The exceptional achievements of SystemVision result from leveraging an extensive partner network, including Advanced Energy, the NC Housing Finance Agency, local housing nonprofits, local governments, builders, energy raters and new homebuyers who choose homes with SystemVision to make the best investment for themselves and their families," said Scott Farmer, executive director of the NC Housing Finance Agency.
"We are extremely proud to be able to manage the SystemVision program and about the partnerships we've formed over the years," said Brian Coble, senior vice president of Advanced Energy. "It's humbling to see firsthand the commitment of the nonprofit development community to build homes for those that may otherwise have difficulty affording them. We're grateful to be able to apply this important program to the work they do, focusing on an underserved market and providing a lasting, positive impact for North Carolina families."
About Advanced Energy:
Advanced Energy is a nonprofit energy consulting firm. We work with electric utilities, government and a wide variety of public and private organizations in the residential, commercial and industrial, renewables, motors and drives, and electric transportation markets. For more information, visit www.advancedenergy.org.
About North Carolina Housing Finance Agency:
The North Carolina Housing Finance Agency, a self-supporting public agency, has financed 306,000 affordable homes and apartments statewide since its creation in 1973. For more information, visit www.nchfa.com.
Kristi Brodd
Marketing and Communications Manager, Advanced Energy
919-857-9019 | kbrodd@advancedenergy.org