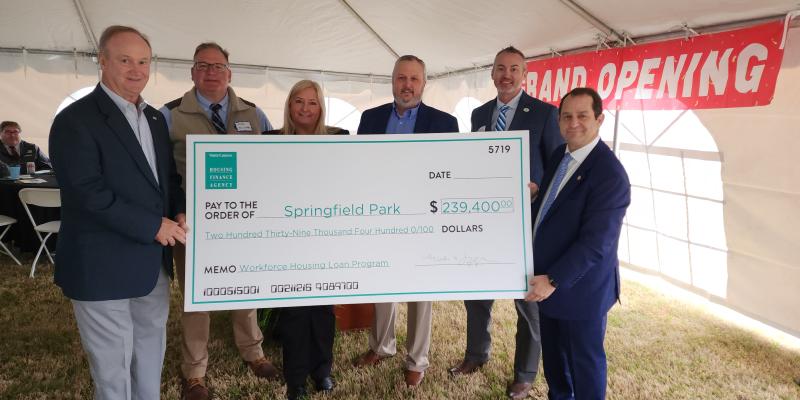 **MEDIA ADVISORY**
RALEIGH—An historic $190 million appropriation made by the NC General Assembly last year to the state's Workforce Housing Loan Program (WHLP) is already addressing substantial funding gaps for workforce housing developments caused by the pandemic.
On March 10, State Senator Michael Lazzara present a ceremonial WHLP check to Springfield Park Apartments in Jacksonville, one of 77 developments statewide helped by the infusion of funds. Springfield Park will help address the shortage of affordable apartments in Onslow County, where more than 49% of renters are cost-burdened, paying more than 30% of their income on rent.
WHAT: Ceremonial Check Presentation from the NC Workforce Housing Loan Program
WHO: State Senator Michael Lazzara, NC Housing Finance Agency officials, local officials
WHEN: Friday, March 10 at 11 a.m.
WHERE: Springfield Park Apartments, 370 Blue Creek School Road, Jacksonville, NC
Developed by Halcon Development and East Point Homes, Springfield Park was awarded funding by the NC Housing Finance Agency in 2019 to provide 80 apartment homes affordable for working families and Hurricane Florence survivors. After pandemic-related construction cost increases, supply chain disruptions and labor shortages stalled Springfield Park, a $239,400 loan from the WHLP appropriation enabled its completion by going directly into the construction and lowering rents.
Statewide, the $190 million Workforce Housing Loan Program appropriation kickstarted the construction of 77 developments with more than 5,100 apartment homes which had stalled, providing much needed housing for working families and seniors on fixed incomes.
"This historic appropriation will expand housing options for working families across the state who are among those hardest hit by the pandemic's economic impacts," said Scott Farmer, NC Housing Finance Agency Executive Director. "We are grateful to the General Assembly for recognizing and addressing the housing shortage facing thousands of hard-working North Carolinians." 
The North Carolina Housing Finance Agency is a self-supporting public agency that finances affordable housing opportunities for North Carolinians whose needs are not met by the market. Since its creation in 1973 by the General Assembly, the Agency has financed more than 298,860 affordable homes and apartments, totaling $29.16 billion. To learn more about the Agency and its programs, visit www.HousingBuildsNC.com.