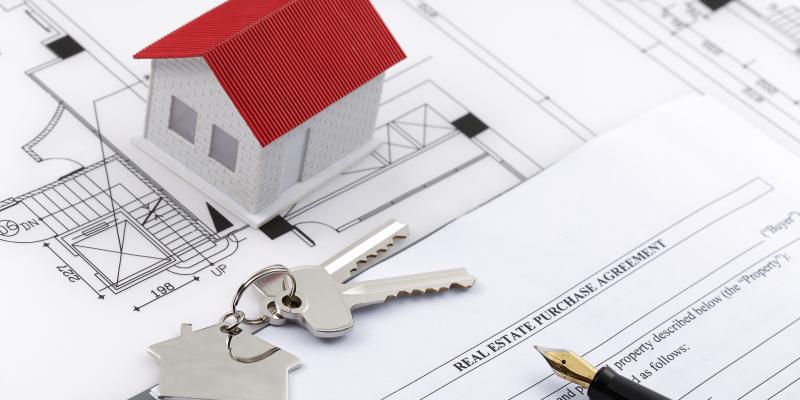 While looking at homes may be one of the most exciting parts of buying a home, going to see a lender about a mortgage can be one of the most nerve-wracking. Lenders assess your financial situation and determine if you are a good candidate for a loan, and what products they can offer you.
Have you ever wondered how a mortgage lender makes decisions on who to lend to? Read on to learn some of the things that go into a lender's decision, so you can be prepared when it comes time to apply for a mortgage!
What Is Your Credit Score?
If you've spent even one minute thinking about buying a home, you have likely heard about the importance of your credit score to lenders. Your FICO credit score is used by lenders to determine how reliably you manage your debt and how likely you are to make your mortgage payments. Generally, a credit score of 640 or above is considered acceptable, but acceptable credit scores vary by lender. A higher credit score will afford you the best mortgage interest rates, while a low score may hinder your approval. Before you start the home buying process, check your credit score and take steps to make sure it is as good as it can be before you approach a lender.
How Much Can You Place on a Down Payment?
After the recession, many lenders required a 20 percent down payment to qualify for a loan, however, this is no longer the case. Although you can now get a mortgage with very low down payments of 5-10 percent, or even 3.5 percent with an FHA loan like the NC Home Advantage Mortgage™, your down payment still plays a part in your lender's decision. Having a down payment, even a small one, can show your lender that you are serious about your home purchase, and that you see it as a sound investment. However, keep in mind that if you make a down payment of less than 20 percent of the total loan, you may have to pay private mortgage insurance (PMI).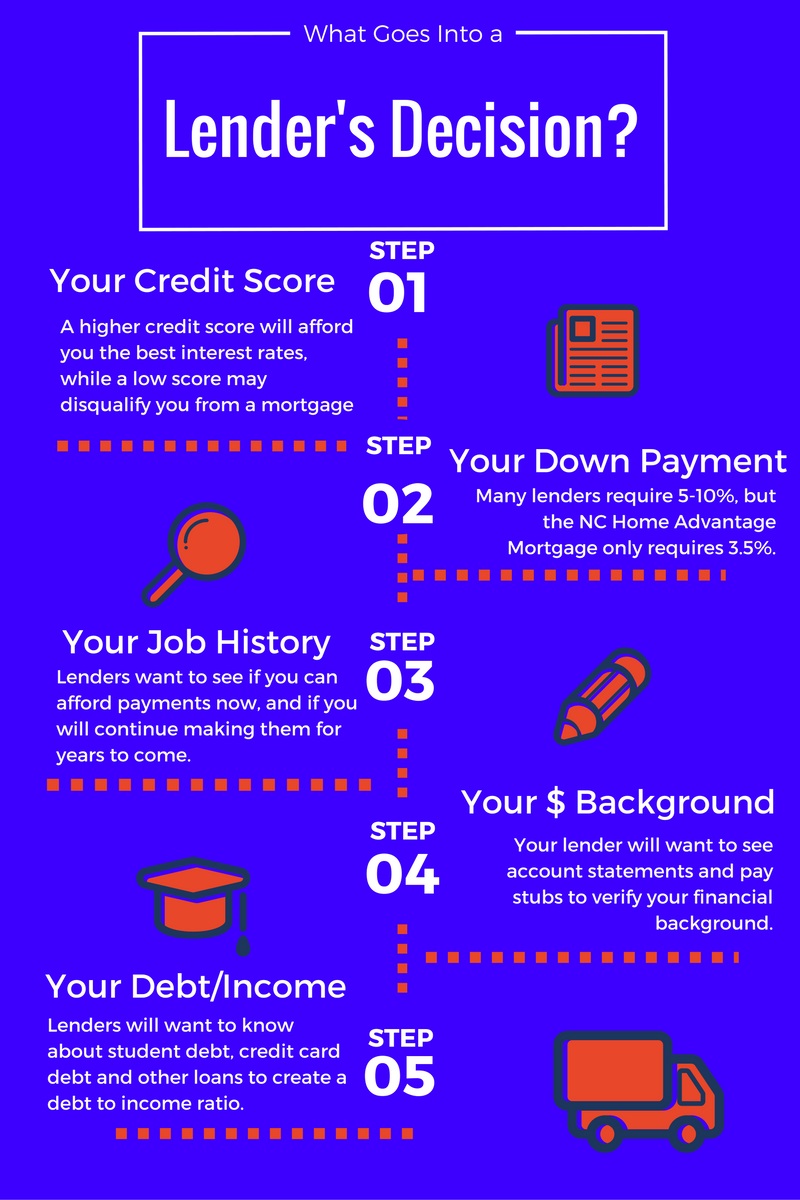 What Does Your Job History Look Like?
Lenders aren't just looking to see if you can make a down payment, they want to be sure that you can afford to make payments for the life of the loan. For that reason, lenders check your job history to make sure you are currently employed and there is good evidence that you will continue to be employed in the future. In general, lenders want to lend to people who have been employed for two years or more, or are working in the same industry.
How Does Your Financial Background Look?
Paying a mortgage isn't just about how much you get paid, it's about your financial background, too! Your lender will want to see pay stubs to verify your accounts, and information about other accounts you may have including retirement accounts and savings accounts. When you see your lender, it is a good idea to have all of your information ready to go to avoid delaying the approval process.
How Well Do You Handle Debt?
Chances are, your mortgage won't be the only debt you carry. Many homeowners, especially first-time home buyers and millennials, carry debt like student loans and credit card balances. This debt will also be taken into consideration by your lender when they make their approval decision. Your lender will weigh your total debts against your income to come up with a debt to income ration—if your total debt ratio is below 41 percent, a lender will be much more likely to approve you for a mortgage loan.
Finding the lender who is right for you doesn't have to be a difficult process. If you're interested in the NC Home Advantage Mortgage™ with competitive rates and down payment assistance, use our Find a Lender page to find a participating lender near you! www.nchfa.com/home-buyers/find-lender.