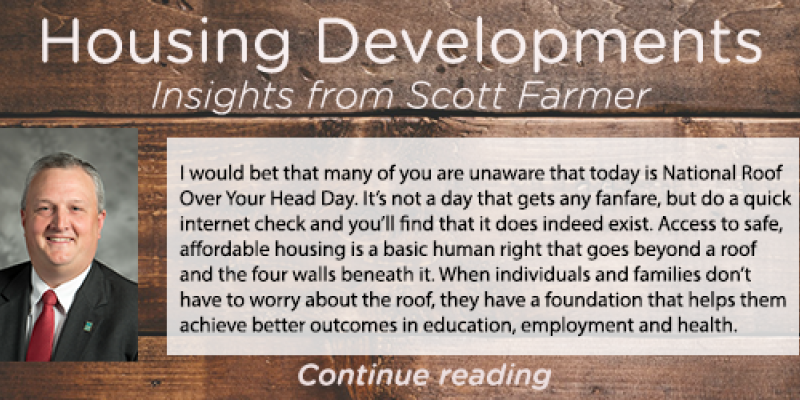 I would bet that many of you are unaware that today, December 3, is National Roof Over Your Head Day. It's not a day that gets any fanfare and even Google's exhaustive resources provide no insight to who started it and when. But do a quick Internet check and you'll find that National Roof Over Your Head Day does indeed exist and is described as a day to take the time to appreciate having a place to call home.
Access to safe, affordable housing is a basic human right that goes beyond a roof and the four walls beneath it. When individuals and families don't have to worry about the roof, they find that they also now have a foundation that helps them achieve better outcomes in other areas of their lives including education, employment and health.
For our Agency, National Roof Over Your Head Day symbolizes why we are so passionate about what we do the other 364 days of the year. Whether it be through affordable mortgage options, apartment homes, rental assistance, community subdivisions, home rehabilitation, supportive housing or foreclosure prevention, we are, simply put, ensuring there is a roof over the heads of more than 35,000 North Carolinians annually. But we don't do it alone.
Untold numbers of people and organizations help us get individuals and families under those roofs. Whether you are a developer or lender, real estate agent or home builder, or work for a nonprofit or local government, you play a tremendous role in the work we do. Because of you, we can reach home buyers, homeowners and renters in all 100 counties.
The life-changing nature of affordable housing work was evident in October when we recognized properties that created housing stability in their communities through home buyer opportunities, repairs for homeowners, apartment homes for seniors and families and permanent supportive housing for adults with intellectual and/or developmental disabilities. If you were unable to attend this year's Housing North Carolina Awards celebration, I encourage you to check out these communities and the difference they made for their residents on the Agency's YouTube channel.
As we consider the successes of putting a roof over the heads of so many North Carolinians, I am reminded that our work is not complete if we don't keep that roof over people's heads. A few days ago, a mother from Fayetteville whose home had been saved by the NC Foreclosure Prevention Fund called our office, excited to share her story. She spoke of working odd jobs so she could to keep the roof over her three children's heads until she ran out of options. "Put yourself in my shoes—you're working and then something happens. All the sudden you're facing homelessness and losing your car….but because of the caliber of character of the people who work at the Agency, I was able to get the help I needed."
It's one roof, but that one roof will keep a family safe while they get back on their feet. It will keep three children in school and ensure that they get the education they need to someday get their own roofs. And it will contribute to the stability and success of the surrounding community.
We should all take a moment today and be grateful for the roof over our head. Let's use today as an important reminder not just of the work we've done, but of the work that's left to do—our mission will not be met until everyone in North Carolina can celebrate the roof over their heads.