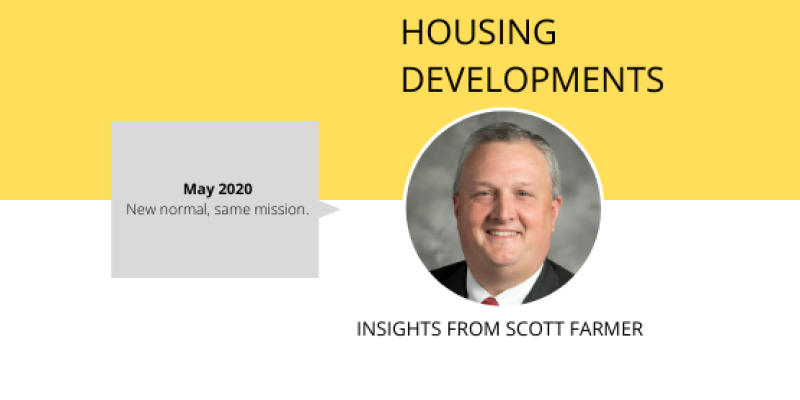 Last month, I shared my perspective on COVID-19 and its impacts on our work and our work environment. In the time since, it has become clear that this is a marathon and not a sprint. As an Agency, we successfully navigated the first stage of immediate response, activating processes and systems that keep our staff safe while ensuring we are still able to deliver our programs and services. I am extremely grateful for the effort and enthusiasm displayed by the entire Agency team in adapting to ongoing changes in how we serve our mission. 
As May begins, we are now entering the next stage as we embrace the new normal. Our program teams continue to find new and innovative ways to support our partners. In-person meetings remain cancelled, so we are using various video technologies to ensure we can continue our valuable work and stay connected. Lenders are accessing training through webinars to ensure they can meet home buyer needs, we are conducting telephonic listening sessions with our developer partners and we've adjusted requirements and deadlines across a number of programs. More important, our funding awards continue as evidenced by the $4.5 million in Urgent Repair dollars awarded to 37 local government and nonprofit partners a few weeks ago.  
Like the hurricanes that hit our state in recent years, COVID-19 has reinforced the growing need for more affordable housing options for families, seniors, veterans and people with disabilities. As during the Great Recession, we are seeing just how quickly our citizens can go from unemployment to homelessness. Mortgage forbearance and moratoriums on evictions have been implemented. But these are stopgap measures that can't address the long-term impacts of COVID-19 on housing or the ongoing affordability challenges in North Carolina and across the country.   
We are closely monitoring activities at the local, state and federal levels to ensure we are providing the most accurate information to our network of partners.  While none of the new resources approved thus far are directed to the Agency, we know that housing is critical to long-term economic recovery and we will all have a role to play.
With your help, we can not only get through this, but use this opportunity to further our mission of creating affordable housing options for all North Carolinians going forward.