Willow Pond, Mocksville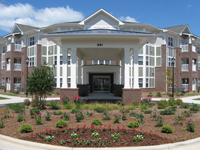 For seniors in small towns, remaining in their own community as they get older can prove challenging, particularly if housing options are severely limited by their income. Willow Pond tackles that problem for Mocksville by offering 50 senior apartments that deliver beautiful homes at an affordable price. 
Developed by The Affordable Housing Group of North Carolina and the Wesley Community Development Corporation, Willow Pond offers one- and two-bedroom apartment homes in a charming three-story building. Apartments range from 675 to 910 square feet with rents from $355 to $570. Six apartments are fully accessible for persons with disabilities, including three with roll-in showers. An additional 12 apartments have step-in showers for seniors who have difficulty with tubs. 
Willow Pond incorporates several features designed to save water and be  energy-efficient, such as appliances and windows. Each apartment has an abundance of natural light. The apartments also use an attractive vinyl tile that gives the impression of hardwoods. 
Amenities include a computer room, fitness equipment, media room, and community room with a kitchen, which serves as a gathering place for events and parties. There are also several outdoor seating areas and a walking trail. 
Perhaps the best benefit for residents, however, is being able to reside in a tranquil environment while remaining close to services and shopping. Willow Pond sits on a small hill above a one-acre pond. Each floor offers common indoor space and a covered patio overlooking the water so that all tenants can enjoy the view even if their apartments don't face the pond. 
Residents are able to walk to a drugstore next door, and a shopping center with several stores and restaurants is within a quarter mile. Banks and the Davie County Senior Center are also close by.  
Local officials applaud Willow Pond for providing high quality housing for Mocksville's seniors. Many residents attended the property's opening to share their enthusiasm for their new home. Ask them why they love Willow Pond and they point to the peaceful, safe locale and caring management staff. 
"I enjoy living at Willow Pond because I feel secure here," said one woman. "As a senior living on a fixed income, I am happy to have a beautiful apartment that allows my Yorkie to live with me. I am also glad that my children no longer have to worry about me living alone."
Willow Pond was financed with federal and state housing credits. 
Timber Spring, Garner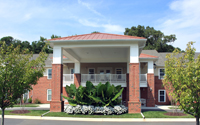 Larger towns can also face challenges providing housing for seniors on fixed incomes, particularly cities that are growing as fast as Garner. Timber Spring, a community of 48 apartment homes, capitalizes on that growth with a coveted location in the up-and-coming White Oak area. 
Developed by Evergreen Construction, the senior community is walking distance to White Oak Crossings, a newer retail center in the town's growing mix of residential and commercial development that also boasts North Carolina's only Cabela's outdoor store.
The development of Timber Spring not only complements its surroundings aesthetically but has made its own significant contributions to the local economy. Eighty-nine percent of construction dollars and 100 percent of professional service dollars were spent in Garner and surrounding Wake County.
Timber Spring offers one- and two-bedroom apartments ranging from 685 to 930 square feet. Rents are from $350 to $725. The apartments are roomy with French doors to the balconies and spacious eat-in kitchens. 
Amenities include a fitness center, computer room, multipurpose room with kitchen, and individual storage areas for residents. The property features several outdoor common areas where residents can gather, including a large patio and balcony. These areas let Timber Spring residents hold several social events, including a 4th of July party. 
Evergreen credits the Town of Garner for helping to ensure that Timber Spring fits in well with its surroundings. The developer had several meetings with town staff and adjoining neighbors, seeking and implementing their ideas to the property's design. 
While an attractive addition to the town, for the seniors who live there, Timber Spring is simply home. One woman praises the multipurpose room for giving the residents a place to socialize. Several mention the safe environment and strong sense of community. One couple sums up the feelings of many: "Home is where your heart is every day. Our heart is right here at Timber Spring."
Timber Spring was financed with federal and state housing credits. 
Denson Apartments, Durham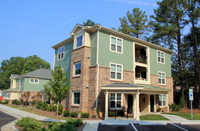 Too often, returning veterans face challenges that can leave them homeless – unemployment, low incomes, and service-caused disabilities. Denson Apartments in Durham was developed with the belief that the men and women who have selflessly served our country deserve better. Denson Apartments offers veterans not just a shelter, but a chance to rebuild their lives in a new home.
Developed by CASA, a nonprofit community development organization, and the City of Durham, Denson Apartments was named for former CASA board chair Alex Denson, a veteran and retired judge who has long advocated for the community's homeless. Says Alex, "No higher honor could be paid to me than to have these apartments for homeless veterans named in my honor. As a veteran, I feel I am in a special group of people who have served their country, often at great sacrifice…We need to be there for them when they need us."
Denson Apartments does just that. It provides 11 apartments for veterans who are homeless and have disabilities. Rent is set at 30 percent of the tenant's income and includes all utilities. 
Amenities include a community room with a kitchen, free onsite laundry, and close proximity to public transportation. Residents have access to services through various community partners, including the VA Medical Center and Healing with CAARE, a local agency that provides an array of health care, case management, job training, and personal development services. 
Denson has already been life-changing for its residents. Having his own home enabled one veteran to get the physical therapy he needed to properly wear his prosthetic leg. Another veteran who worked in food service in the Army has found that having her own kitchen lets her provide better nutrition for herself and her daughter. 
The development has received widespread support. The Home Depot Foundation, which has a commitment to the housing needs of veterans, contributed financially and with volunteer hours. Several local groups and individuals donated funds for landscaping and for the furniture in the community space. 
This support was front and center on a cold November day when more than a hundred people turned out to celebrate the opening of Denson Apartments.  Local officials praised the development, veterans proudly carried flags, and recent residents spoke about what their new home means to them. 
"I would probably still be feeling helpless, but I didn't give up so this just motivates me to stay on the right course today. It means I'm never alone and never again homeless," said one veteran.
Another veteran shared, "There are so many guys still fighting. I want to give those guys hope. This gives you a chance to be human again, and I'm grateful for every living soul out there that made this happen. And we need more." 
Thanks to community generosity and the success of Denson, more are coming – ground has already been broken for 12 additional apartments.
Denson Apartments received funding from the North Carolina Housing Trust Fund. 
Norman Park, Huntersville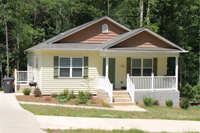 Bringing life to residential land that had sat untouched for 50 years, Norman Park offers Huntersville residents an affordable alternative to rising home prices. Developed by Our Towns Habitat for Humanity and the Town of Huntersville, Norman Park is a vibrant neighborhood of 16 homes nestled into a larger community of market rate housing, schools, and local businesses.
The land for the homes – as well as 57 other lots – was donated to the Habitat. The Habitat and the Town of Huntersville teamed up to request $550,000 in HOME funds to bring utilities to the site so they could build a 16-home subdivision. Remaining lots will be developed in the future by the Habitat or sold to support its work.
The homes range from two to three bedrooms, with sizes averaging 1,100 square feet. Sales prices range from $81,000 to $89,000. The homes are made even more affordable by low energy costs – all are built to SystemVision standards that keep heating and cooling costs to between $25 and $35 per month. They are also certified by Energy Star and feature energy-efficient appliances. The homes incorporate universal design features and include large doorways and wide hallways. If a home buyer has a special need due to a medical condition, Our Towns will make any needed modifications. 
The homes are affordable to working families thanks to forgivable second mortgages from the Habitat. In addition, our Agency provides zero interest participation loans to the Habitat. All borrowers must contribute at least 400 hours of "sweat equity" on their own homes, their neighbors' homes, or in the local Habitat ReStore. 
To ensure they are prepared for all the expenses that home ownership entails, each family completes 50 hours of homeowner education. Our Towns also requires borrowers to complete training on home maintenance and repair, and deed restrictions include owner requirements for property maintenance.  
Besides turning long vacant lots into a thriving community, the investment in Norman Park provided much needed work for a local general contractor at a time when the Great Recession was forcing many contractors out of business. In addition, four subcontractors for grading, HVAC, concrete, and plumbing were employed on each home.  
With sidewalks and wooded surroundings, Norman Park promotes an active community. The neighborhood has been sought-after by working families because of its close proximity to schools, with the elementary and middle schools one-and-a-half miles away and the high school even closer. A bus line, hospital, and several business are also nearby. 
For many residents, Norman Park has fulfilled dreams beyond home ownership. One family who celebrated their first Christmas in their new home last year said it was the first time their children ever decorated a Christmas tree. Others express delight at having a yard, whether to garden or to finally have their own pet. One new owner explains, "Becoming a homeowner has opened doors of opportunity for me to meet my goals and better myself." 
The Bungalows at Southside, Durham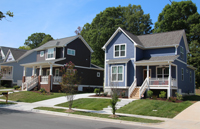 Cities across the country struggle with how to breathe life into older, declining neighborhoods without displacing current residents. The City of Durham has not only achieved that balance with the Bungalows at Southside but has leveraged its investment by drawing private developers into a previously blighted area.  
The Bungalows is part of the city's much larger Southside Revitalization Project, which covers approximately 125 acres on the edge of downtown Durham and includes a mix of homes, apartment communities, and commercial development. Prior to redevelopment, the area had the highest concentration of vacant homes and lots in the city and the lowest rates of home ownership.
A model for mixed income housing development and neighborhood revitalization, the Bungalows at Southside offers 25 homes affordable to working families and 23 at market rate. Design features include generous porches and backyards, Hardiboard siding, and architectural shingles. Interiors boast hardwood flooring and gourmet kitchens with granite countertops and stainless steel appliances. All homes were built to SystemVision standards, saving owners on heating and cooling costs. 
The three- and four-bedroom homes average 1,200 to 1,800 square feet. Sales prices range from $164,000 to $195,000. To accommodate buyers with lower incomes, including residents who want to remain in the neighborhood, the city offers a mortgage up to $20,000 at two percent and a second mortgage of $20,000 at zero percent. Our Agency provides zero-interest, deferred second mortgages up to 15 percent of the purchase price when needed to qualify. 
To ensure the homeowners' success, the city created housing counselor and outreach positions and partnered with nonprofits to build rapport with existing residents and provide financial and home maintenance education. New owners get connected with residents who lived in the original St. Teresa neighborhood through a newly established homeowners association.  
The community's proximity to downtown Durham affords owners access to numerous resources. Local and regional bus lines and the Amtrak train station are all within walking distance. Homeowners can also walk to downtown jobs and local universities. Residents enjoy an array of nearby recreation options, including the American Tobacco Trail and a Farmer's Market. 
The Bungalows has not only invigorated Durham's Southside but has served as a catalyst for private investment. Builders have flocked to the area to snap up lots and neglected homes, renovate them and sell them to new buyers. This wholesale renewal has created an economically diverse neighborhood that meets the needs of both moderate-income and market-rate buyers. 
New residents include a public safety worker, a public school teacher who works with students having disabilities, and two Duke University employees. One new owner says the neighborhood has provided endless opportunities to connect with people from various backgrounds and restores her hope in the community and its leadership. Another states that the blending of existing residents with new homeowners has created a strong, cohesive community. 
A longtime resident sums it up: "This has been an adventure. For 20 years, I've seen these streets look dark. Now, I see light."