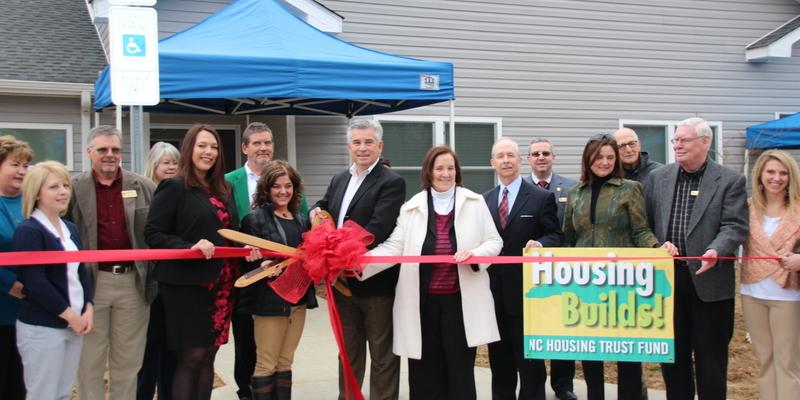 Release No. 03012016-1
Press Contact Only:
Connie Helmlinger, NCHFA, 919-877-5607 [email protected] 
Madison Fisler Lewis, NCHFA, 919-877-5608 [email protected]
---
A ribbon-cutting ceremony for the VanDrake Shelter, a new emergency domestic and sexual violence shelter consisting of 20 beds for survivors of domestic violence and sexual assault, will be held this Thursday in Franklin. REACH of Macon County and Hamlett Construction of Climax, N.C. developed the shelter using a loan from the North Carolina Housing Trust Fund awarded by the North Carolina Housing Finance Agency. 
Date/Time/Location:      March 3, 2016; 12 p.m.; 29 Meadowlark Drive Franklin
NC
Onsite Contact:      Troy Hershberger, N.C. Housing Finance Agency, 330-842-1027
The VanDrake Shelter features a one-story, 5,810 square-foot building with 10 bedrooms holding 20 beds. The shelter also features a family and living room, two shared kitchens and dining areas, laundry facilities, a playroom, a covered patio and a secure outdoor playground area. In addition, the shelter includes counseling and office space and offers supports such as child services, court advocacy, housing assistance, a crisis line and a food pantry.  
"The VanDrake Shelter will impact the lives of numerous families for years to come," said Andrea Anderson, executive director of REACH of Macon County. "It reflects the commitment of REACH and our community to ensure a welcoming, accessible environment for survivors and their children."
The $1.2 million development was financed in large part with a $742,538 interest-free loan from the N.C. Housing Trust Fund. Additional investors include Macon and Jackson counties, contributions from VanDrake Enterprises and General Assembly appropriations.
"The new shelter was truly a community effort," Anderson said. "Financial commitments, volunteer time and donations of household essentials at every level made an impact. Last year, REACH was unable to serve over 80 families due to lack of space. With the support of the North Carolina Housing Finance Agency, we will be able to expand shelter services to assist more survivors and children."
"This domestic and sexual violence shelter offers women and their children a safe and comfortable home while they recover from abuse," said Bob Kucab, executive director of the North Carolina Housing Finance Agency. "All in all, the Housing Trust Fund has financed the construction of 29 domestic violence shelters in North Carolina, and this is yet another great example of the type of housing financed by the Trust Fund."
The North Carolina Housing Finance Agency, a self-supporting public agency, has financed 242,000 homes and apartments since its creation in 1973.
###