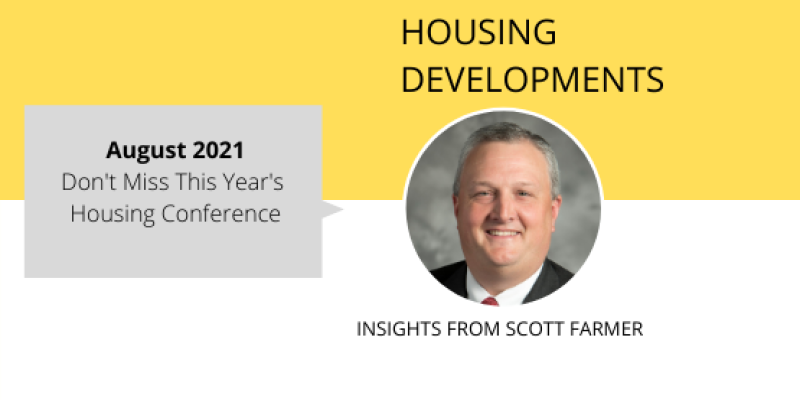 In the past year, COVID-19 has illuminated not only the direct impact of housing affordability on health but the inequalities still plaguing people of color as they seek safe, affordable housing. The opening session at this year's NC Affordable Housing Conference will feature keynote speakers Mandy Cohen exploring how housing and health have intersected in the past year and Michael L. Browder, Sr., discussing what needs to be done to ensure equitable access to safe, affordable housing for everyone.
Cohen serves as secretary of the NC Department of Health and Human Services and leads the COVID-19 response for the state.  Even prior to the pandemic, Cohen's agenda heavily focused on the social determinants of health and led to creation of NCCARE360. The nation's first statewide coordinated care network, NCCARE360 seeks to electronically connect those with identified needs to community resources and allow for a feedback loop on the outcome of that connection. This private-public partnership emphasizes housing and shelter as key services in its robust network of resources and has played a prominent role in North Carolina's COVID response.  
Browder has served at the US Department of Housing and Urban Development (HUD) since July 2012 and is currently the Region IV Deputy Regional Administrator (DRA) for the Southeast Region. He will discuss HUD's commitment to eliminating racial bias and other forms of discrimination and a new initiative to significantly increase black home ownership over the next nine years. Launched earlier this summer by HUD and a coalition of civil rights organizations and industry leaders, 3by30 is a seven-point plan designed to increase Black home ownership by three million by 2030.
The conference will dive deeper into these and other critical housing topics with breakout sessions on housing's role as a social determinant of health, racial equity issues, solutions for tough housing markets and increasing diversity in the industry. Sessions will also explore LIHTC development and equity issues, the state's housing organization infrastructure, local government housing initiatives financed by bonds and updates for property managers, home buying and home rehab partners, housing counselors, local governments and CDCs and bankers. Bob Moss and David Gasson, partners of MS Housing Strategies, will close out the conference with an industry update that draws on their combined 35 years' experience in public policy and affordable housing.
While we won't be meeting in person this year, the NC Housing Finance Agency, the NC Housing Coalition and Centrant Community Capital are committed to providing the educational experience you expect at the NC Affordable Housing Conference. We also encourage you to use the online chat feature to network between sessions and will provide the sessions on-demand during and after the conference to conference registrants so you don't miss anything.
Registration will open later this month and I hope to see you online at our virtual NC Affordable Housing Conference, October 14-15. Learn more at NCHousingConference.com.