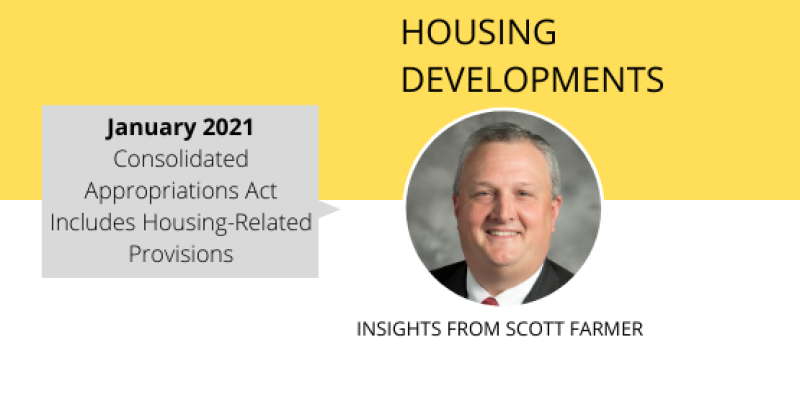 Happy New Year! And what a year it was. While the world may be collectively relieved to put 2020 behind us, we know many of its challenges did not go away with the changing of the calendar. 
Housing remains near the top of that list as many unemployed or underemployed renters continue to fall further behind on their rent payments. A report issued in late September by the National Council of State Housing Agencies (NCSHA) predicted that as many as 240,000 North Carolinians could face eviction going into 2021 with an estimated rent shortfall of $632 million to $824 million.
The new year does offer a few signs of optimism. In late December, Congress passed the Consolidated Appropriations Act of 2021, which included several housing related provisions. First, it extended the Centers for Disease Control and Prevention (CDC) eviction moratorium to January 31. Governor Cooper also extended the state moratorium to the end of this month. 
While the extensions provide much-needed time for renters, the reprieve is only temporary and the additional rent shortfalls place even greater pressure on owners and property managers. Fortunately, the Appropriations bill included the Emergency Rental Assistance program, which provides $25 billion in rental assistance, with North Carolina projected to receive $700 million.
This new funding is good news for renters who are facing possible homelessness once the eviction moratoriums expire. It will also offer potential relief for landlords who still have to make their mortgage payments and maintain their properties when renters cannot pay their rent. Thus far, one of the few options for landlords has been forbearance through their lenders. But like eviction moratoriums, this only delays the inevitable—if renters don't get caught up, neither do landlords who are still on the hook for their mortgage payments when forbearance expires.
Another welcomed surprise in the Appropriations bill was the fixing of the 4% minimum rate for Housing Credit developments.  This will have a significant impact on developments using tax-exempt bonds and is estimated to produce an additional 126,000 units nationally over the next decade.  In our state, we hope this will open the door for more communities to utilize 4% credits and bonds.
While the pandemic's economic challenges will undoubtedly continue, these resources will make a true difference in the lives of thousands of North Carolinians.