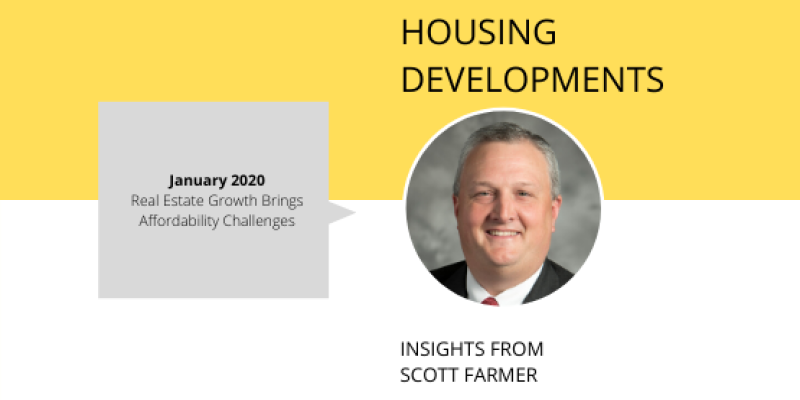 Fueled by the growth of the tech sector and exploding populations, Raleigh and Charlotte were recently named the #2 and #4 real estate markets nationwide in the Urban Land Institute's Emerging Trends in Real Estate 2020. While this achievement bodes well for those cities and their investors, it exacerbates housing affordability issues. Specifically, the report found that "price recovery has so far outstripped household incomes that affordability has reached the breaking point even in markets that previously boasted of the low cost of housing." For families with the lowest incomes, affordability has gone beyond the breaking point—there's no county in the country where a full-time minimum wage worker can afford a two-bedroom apartment, according to the National Low Income Housing Coalition.
The good news is that North Carolina cities are taking notice and taking action. While Charlotte's Housing Trust Fund has financed 7,278 new and rehabilitated affordable housing units since 2001, recent activity promises to increase that number significantly. Voters boosted the Fund to $50 million in 2018, and the privately financed Housing Opportunity Investment Fund, launched in the spring of 2018, added more than $50 million in additional resources to address the affordability gap in Charlotte.  In 2019, more than 950 units were approved to receive these public and private funds.
Many of these units, as well as others around the state, will benefit from Housing Credits and tax-exempt bonds. While the state has a cap on 9% tax credits that can be awarded, no cap exists on 4% tax credits, which are available to projects utilizing tax-exempt bond financing.  Tax-exempt bonds help more units go from blueprint to reality by financing both new construction and rehabilitation of existing apartments.
Raleigh is similarly addressing housing affordability, having approved a dedicated public revenue stream through the Affordable Housing Plan in 2015. Funding will support the creation and preservation of affordable rental homes in areas near employment opportunities and transit lines and in downtown neighborhoods, with a small amount financing home rehabilitation for low-income owners in Southeast Raleigh. The city has committed to creating 570 affordable housing units a year for the next 10 years. Just like in Charlotte, Raleigh leaders and developers are taking advantage of the 4% tax credits available with bond financing to increase new construction and renovate existing buildings. 
Asheville and Greensboro also have dedicated housing funds dating back nearly 20 years and recently passed housing bonds to counter growing affordability challenges. The City of Durham voters recognized the importance of affordable housing by passing a $95 million bond referendum last year. Our goal at the Agency is to support these efforts as well as the work of partners in cities and towns statewide.
Housing Credits awarded in 2019 will build 3,889 apartments in 29 counties over the next few years. Thousands of families and seniors will have a new home in 2020 thanks to Housing Credits from 2018 and earlier. Our affordable mortgage products and investments in community home ownership production will expand housing options in tight markets and put home ownership back in reach for North Carolinians with low and moderate incomes. We also are putting more money into the hands of local partners through our rehab and supportive housing programs, ensuring they have the tools to help homeowners remain in their homes and assist citizens with special housing needs.
We can't control the market or how others may respond to it, but we are fortunate to have many tools at our disposal to expand housing options for all North Carolinians. Our Agency looks forward to working with our partners to make 2020 not just a top real estate market for a few of our cities, but an affordable housing market for all of North Carolina.