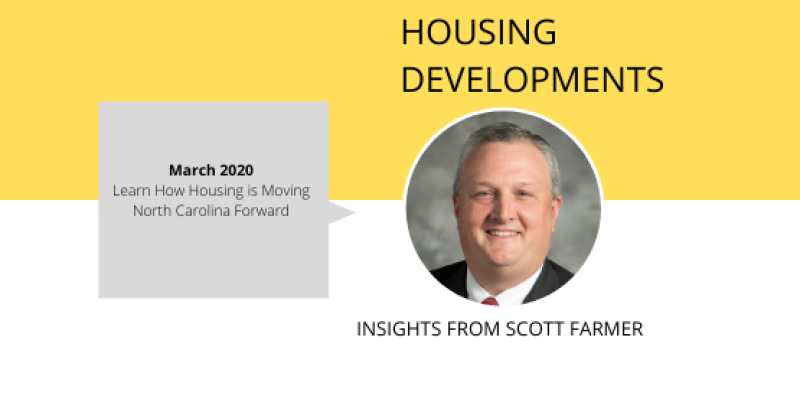 This week, you should receive the Agency's 2019 Investment and Impact: Housing Moves North Carolina Forward, a four-page snapshot of what you helped us accomplish in the past year. With your partnership, the Agency surpassed two milestones in 2019: 100,000 apartments financed in the state and 120,000 home buyers helped since 1973. Overall, the Agency financed nearly $2 billion in real estate activity, developing 11,370 homes and apartments, supporting 13,700 jobs and generating $40.4 million in state and local taxes.  
As we did last year, we developed an interactive website that expands our reporting beyond the numbers to showcase tangible outcomes and impacts. By showing real-life examples of families and communities who benefitted from our investments, we are able to illustrate and underscore the connections between affordable housing and health care access and outcomes, educational outcomes and long-term economic success.
The Housing Moves North Carolina Forward website pairs our numbers with research studies, benefit reports and impact assessments that illustrate how housing moves lives, communities and the state of North Carolina forward. You'll read stories about how communities hit hard by recent hurricanes will be able to rebound thanks to rental investments and in some cases, have already begun welcoming back displaced residents. Also included are stories of  communities that saw their first new affordable apartments in a decade or more and other areas that will gain new affordable options thanks to renovations and redevelopment. The website also dives deep into the impact of home ownership investments, particularly two developments that are providing homes for aging adults and families impacted by natural disaster.
Woven throughout the website is economic research showing how people in stable, affordable housing are more likely to have the financial resources to meet health needs and access primary care and how rehab investments can ultimately save on public health care costs. Housing Moves North Carolina Forward features real-life impacts ranging from a woman who can now exit and enter her home safely to a single mother who is relieved to have a safe place for her child to grow up.
This comprehensive overview of accomplishments and outcomes is designed to raise awareness of the impact of affordable housing investments among lawmakers, elected officials and community leaders and to arm you with the information necessary to make affordable housing a priority in your cities and towns. Learn more about the impact of affordable housing investments on health, education, communities and the economy at 2019.HousingBuildsNC.com.