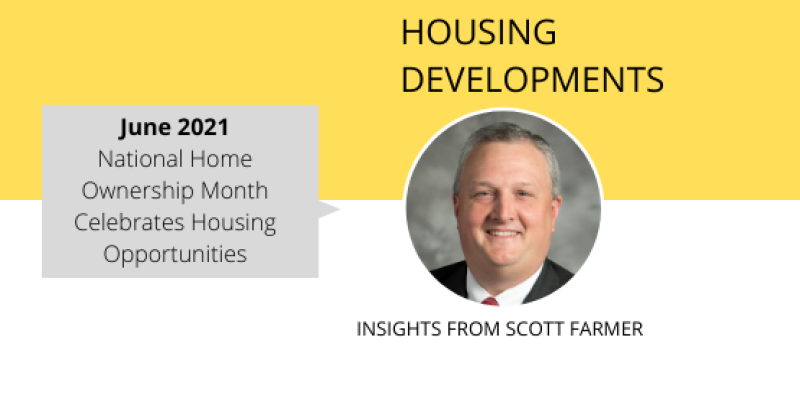 As National Home Ownership Month kicks off, many would-be home buyers are finding themselves squeezed out of a hot housing market by climbing home prices—up 7.4% in North Carolina over last year, according to Core Logic. Compounding that are surging lumber prices and materials shortages that are slowing new construction and widening the gap between supply and demand. This hike in construction costs has been particularly challenging for nonprofits and local governments that serve low- and moderate-income buyers and now need to find ways to keep the homes they produce affordable.   
What can be celebrated this month is that we are well-positioned to meet these increasing challenges with a strong partner network and a suite of affordable mortgage products. Each year, we work with thousands of loan officers and real estate agents to help make home happen for North Carolinians who may otherwise be shut out of the market. Complementing these partnerships is our work with nearly 200 nonprofit groups and local governments that build and rehabilitate affordable homes and a statewide network of housing counseling organizations that help prepare buyers to become successful homeowners.
We're proud that we are able to support our partners with affordable mortgage products that can help them reach more buyers. As competition in the market forces buyers to bring more money to the closing table, both eligible first-time and move-up buyers with incomes up to $99,000 can benefit from the NC Home Advantage Mortgage which offers forgivable down payment assistance up to 5% of the loan amount. First-time buyers and military veterans with lower incomes can get an $8,000 down payment boost with the NC 1st Home Advantage Down Payment or save up to $2,000 annually on their federal taxes with the NC Home Advantage Tax Credit.
In conjunction with these products, we offer community home buying programs in partnership with local governments and nonprofit groups. The Community Partners Loan Pool offers 0% interest, deferred subordinate mortgages up to 20% of the sales price, while the Self-Help Loan Pool provides affordable, 0% interest, shared mortgage financing to help eligible buyers purchase homes.
To increase awareness of these programs, we are celebrating National Home Ownership Month with a new campaign: We're Here to Help Make it Happen. This campaign will include weekly animated videos that follow the journey of Pam, a woman with a loud roommate and messy apartment, who dreams of a home of her own. You can follow her story on all our social media channels and at NCHomeAdvantage.com throughout June. We hope that Pam's story will inspire potential home buyers to start their own home buyer journey by reminding them that we can help make home happen for them.
We have help thousands of North Carolinas overcome obstacles every year to become homeowners. Together, we can continue that work. If you are not already working with us, I encourage you to learn more about our programs and how you can become one of our valued partners.  
And if you are already one of our partners, I thank you. We could not do the work that we do without you. Because of your ingenuity and dedication to an underserved market, more than 126,000 North Carolinians have been able to achieve the life-changing goal of homeownership that has put them on a better path to building wealth and success for themselves and future generations.