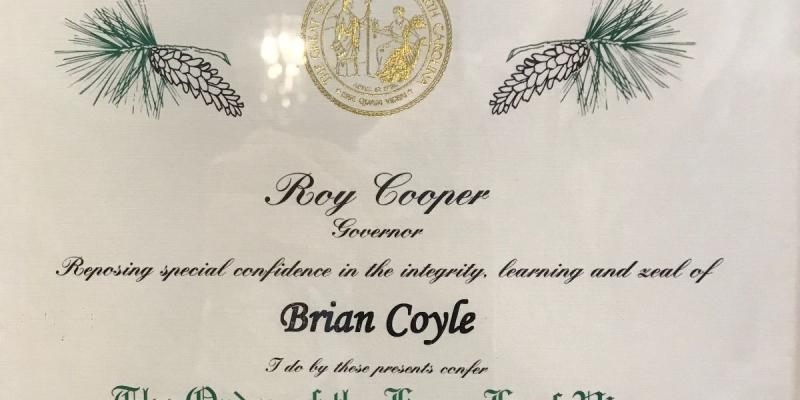 In July, North Carolina Governor Roy Cooper conferred the Order of the Long Leaf Pine to Housing Partnership Chair and statewide affordable housing advocate Brian Coyle. The Order of the Long Leaf Pine, the highest possible civilian honor bestowed by the state of North Carolina, recognized Coyle for his more than 40 years as a champion of affordable housing in North Carolina.
For the past 21 years, Coyle has chaired the North Carolina Housing Partnership, created by the General Assembly to oversee the North Carolina Housing Trust Fund. First appointed in 1997 by House Speaker Harold J. Brubaker, he has been reappointed for seven consecutive terms by four House Speakers. Under his leadership, more than $230 million has been appropriated to the Housing Trust Fund.
Coyle's professional career spans six decades. He serves as senior vice president and CRA investment manager at BB&T, overseeing the bank's investments in the Low-Income Housing Tax Credit program and supporting the development of rental housing in North Carolina and Across the Southeast. In addition to his professional career, Coyle has volunteered on nonprofit and advocacy boards including the North Carolina Low Income Housing Coalition, the Community Affordable Housing Equity Corporation, the Community Investment Corporation of NC, the North Carolina Community Development Initiative, the Z. Smith Reynolds Foundation Advisory Panel, the North Carolina Hispanic Chamber of Commerce and the North Carolina Indian Economic Development Initiative.
"Brian Coyle is a true champion for affordable housing who has spent more than 40 years working to ensure the citizens of North Carolina have access to safe, affordable and healthy homes," said Scott Farmer, executive director of the NC Housing Finance Agency, which administers the Housing Trust Fund under the direction of the Housing Partnership.
"There is no better recipient for the Order of the Long Leaf Pine."