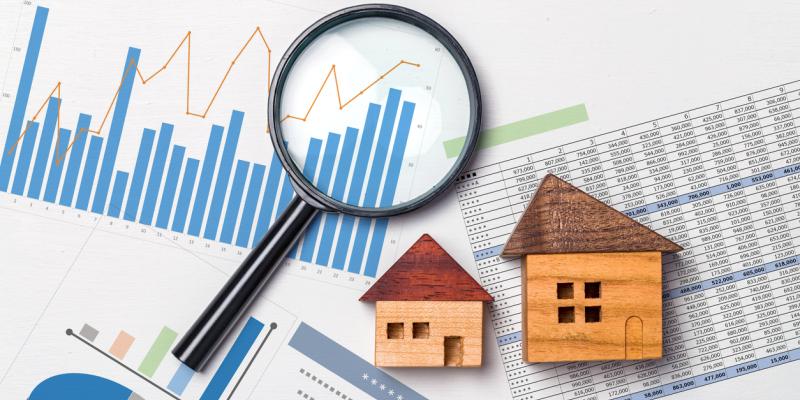 The economic impacts of COVD-19 have led to significant challenges for many homeowners making it difficult to keep up with mortgage payments. To help prevent millions of foreclosures, the 2020 CARES Act offered a mortgage forbearance option for homeowners with federally backed mortgages. These protections were recently extended to the end of February or March, based on the federal agency backing the loan. Forbearance allows borrowers to postpone or reduce monthly mortgage payments without falling into delinquent status. However, the deferred payments are not forgiven and must be repaid at a later date. Nearly 4.3 million homeowners have entered into forbearance agreements since April 2020.
North Carolina Homeowner Trends
The Census Household Pulse Survey Data, a national survey capturing the impact of COVID-19 on households, shows that while the rate at which North Carolina homeowners are behind on their mortgages remains close to the national average, it is volatile (see figure 1 below).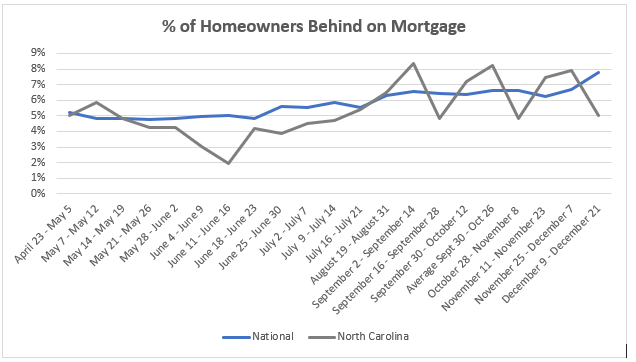 Figure 1: Until July, Pulse surveys were disseminated and collected every week. Since August, Pulse surveys have been disseminated collected every two weeks.
While North Carolinians with no or slight confidence that they could pay their next month's mortgage increased only slightly from August 2020 to December 2020, the fear of potential foreclosure increased significantly during that time (see figure 2 below). Calls to North Carolina's  2-1-1 service referral system confirm that concerns are growing among the state's homeowners, rising from 358 during the last five months of 2019 to 660 during the same timeframe in 2020.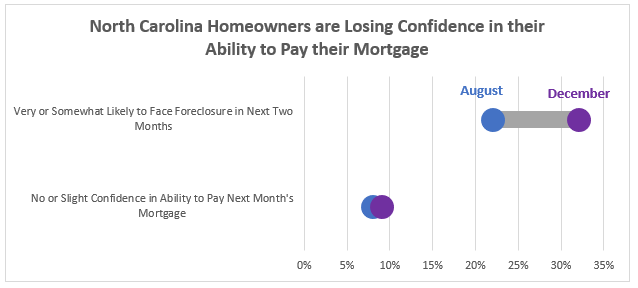 Figure 2
National Homeowner Trends
While national mortgage forbearance rates have been declining steadily over the past few months., the rate at which they are declining is slowing. Housing affordability and insecurity challenges have increased for low-income households and households of color over the course of the COVID-19 pandemic. Higher percentages of homeowners earning less than $25,000, as well as Black and Hispanic homeowners, have reported income loss during the pandemic. As a result, these households are more likely to experience foreclosure or become delinquent on utility or mortgage payments, further exacerbating housing inequities.   
Forbearance protections continue to provide temporary relief to families impacted by COVID-19 who are struggling to pay their mortgage, but concerns exist regarding their ability to catch up when mortgage payments come due. Homeowners who are struggling with mortgage payments should contact their servicers to learn about forbearance opportunities.