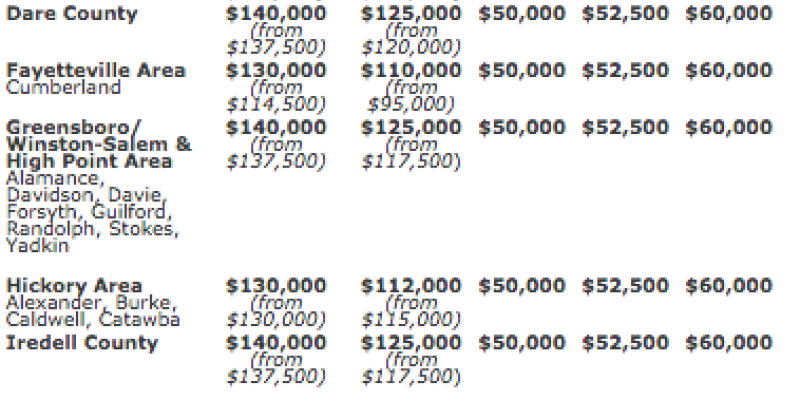 Press Contact Only:

Margaret Matrone, NCHFA, 919-877-5606, 
---
The North Carolina Housing Finance Agency has raised sales price limits statewide for homes purchased using its below-market-rate mortgages. Geared to families of moderate and low income, the mortgages have been used by more than 60,000 first-time homebuyers.
"The higher price limits reflect market changes. We want to make sure that families who qualify for our mortgages can find homes that also qualify," said Lucius S. Jones, chairman of the board of directors. Jones said that because federal limits had not been updated in more than a decade, his agency had been seeking other means to keep price limits in line with local markets.
Price limits increased most in the state's 63 non-metropolitan counties, where allowable cost for new homes was raised from $103,000 to $120,000; and for existing homes, from $90,000 to $115,000. In the state's 30 most expensive counties, price limits were raised from $137,500 to $140,000 for new homes, and from $120,000 to $125,000 for existing homes. Prices for new homes were raised to $130,000 in three counties, and remained at $130,000 in four others. The Hickory-Morganton area was the only place where price limits did not go up. Limits for existing homes was lowered from $115,000 to $112,000 in Alexander, Burke, Caldwell and Catawba counties. (See complete listing of changes below.)
The new limits are based on data that the N.C. Housing Finance Agency obtained from the Federal Housing Finance Board. Previously, the agency had been purchasing private market studies to adjust home price limits. Jones said that Congress is considering bills to amend the way the limits are set, but the outcome is uncertain for this year. The agency's 30-year, fixed-rate mortgages currently have an interest rate of 5.75 percent with zero points. The loans can be FHA-insured, VA- or USDA-guaranteed, or conventional. They are available through a network of local lenders. More information, including a list of participating lenders, maximum incomes, and sales price limits, go to the Low-Interest Home Loans page, or call 919-877-5700 and ask to speak to an underwriter.
The North Carolina Housing Finance Agency is a self-supporting public agency. Since its creation in 1973, the agency has financed more than 126,000 affordable homes and apartments for North Carolina citizens.
# # #