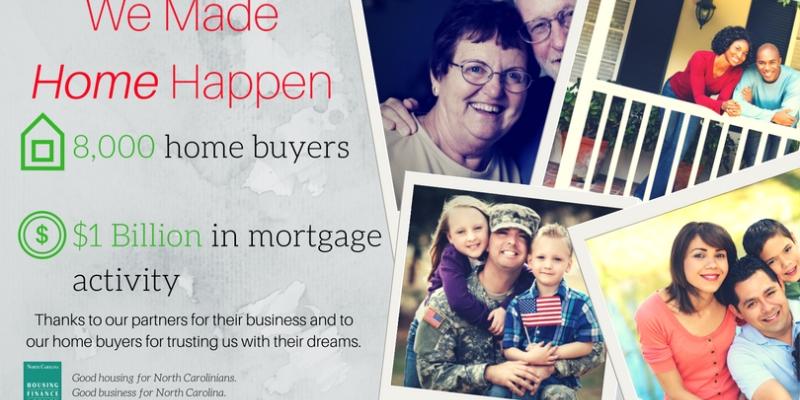 RALEIGH— More than 8,000 North Carolina families are celebrating in new homes this holiday season thanks to $1 billion in mortgage activity from the North Carolina Housing Finance Agency. This represents an all-time high in home ownership investment for the self-supporting public agency, which offers affordable mortgage products for home buyers with low and moderate incomes.
"Our Agency's mortgage programs are aimed at helping those not served by the current market," said Executive Director Scott Farmer. "Rising rents make owning a home a better option for many people, but lower wealth buyers often struggle saving for a down payment."
The Agency's NC Home Advantage Mortgage™ offers down payment help up to 5% of the loan amount for eligible buyers as well as competitive rates. No repayment of this down payment assistance is due if the buyer remains in the home for 15 years, with the loan being forgiven at 20 percent per year in years 11-15.
First-time buyers and military veterans can boost their purchasing power even more with a Mortgage Credit Certificate issued by the Agency, which enables qualified buyers to save up to $2,000 per year on their federal taxes for the life of their home loan. This leaves new homeowners with more money in their pocket to afford their mortgage.
The Agency also provides financing to local governments and nonprofit organizations for home ownership in their communities. This financing can reduce mortgage payments by up to 20% or in the case of self-help organizations, can be combined with their mortgage financing to provide a single, interest-free mortgage loan to buyers.
"Affordable mortgage options expand home buying opportunities for more North Carolinians and act as an economic driver for communities statewide by supporting jobs and stimulating local economies," said Farmer.
Consumers can apply for the NC Home Advantage Mortgage™ and Mortgage Credit Certificates through participating lenders. To learn more, find a participating lender, or locate a community partner using Agency financing to make home buying more affordable, visit Home Buyers at www.nchfa.com.
The North Carolina Housing Finance Agency, a self-supporting public agency, has financed 255,000 homes and apartments since its creation in 1973.