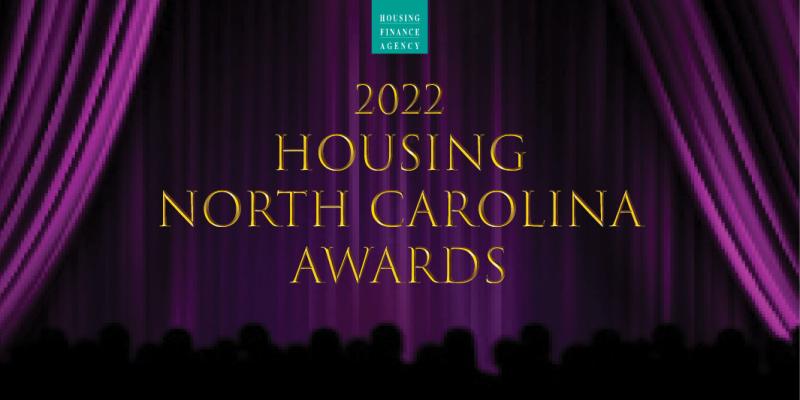 RALEIGH — North Carolina's top honor for excellence in affordable housing has been awarded to four developments and neighborhoods that provide opportunities for home buyers, life-changing repairs for homeowners, apartment homes for seniors and families and supportive housing for North Carolinians facing homelessness.
Now in its 31st year, the Housing North Carolina Awards for 2020 recognize affordable housing work in Chapel Hill, Monroe, Kernersville and Raleigh that serve as models for other communities. The North Carolina Housing Finance Agency presented the awards during a special virtual broadcast October 15.
Greenfield Community, Chapel Hill, an affordable apartment community with a development for both seniors and families in the town's highly desirable Blue Hill District.
The Community Shelter of Union County, Monroe, a new shelter in a two-building campus that places Monroe citizens facing homelessness into permanent housing and helps address community hunger issues.
Crescent Magnolia, Hillsborough, a new Habitat for Humanity neighborhood of affordable homes for senior citizens in Orange County, one of the first such Habitat communities in the country.
Piedmont Triad Regional Council, Kernersville, a community organization focused on home rehabilitation for low-income homeowners who are elderly or have disabilities facing home safety threats.
Editor: A description of each winner and the contact person follows:
Greenfield Community, Chapel Hill
Greenfield Community is a two-phase affordable housing community that provides easy access to schools, employment, medical facilities and transportation options for working families and seniors on fixed incomes in Chapel Hill's highly desirable Blue Hill District.
Developed by DHIC, Greenfield Place and Greenfield Commons, which together make up the Greenfield Community, provide 149 apartment homes for seniors and working families. Floor plans are offered in one-, two- and three-bedroom floor plans with rents ranging from $290 and $890 per month. This community serves households with incomes at or below 60% of the area median income, and renters are able to save more than 40% compared to market rate apartments in the area.
These energy-efficient apartments allow residents to live where they work in diverse industries including child care, health care, service and hospitality, retail and maintenance professions. Residents are able to enjoy a sidewalk system and greenway that enhance the walkability of the community and can access amenities including a playground, gazebo, grill and a clubhouse. Located on a bus line, the community is close to shopping, schools and health care services.
Created as a unique public-private partnership, Greenfield Community was financed with federal low-income housing tax credits awarded by the North Carolina Housing Finance Agency and land was donated by the Town of Chapel Hill.
Contact: Natalie Britt, vice president, real estate development, DHIC, 919-600-5364.
Community Shelter of Union County, Monroe
Founded in 1994 as the Union County Community Shelter, the Community Shelter of Union County in Monroe provides short-term shelter for single adults and families while working to move them into independent, permanent housing. With the construction of the new facility, the shelter now boasts a two-building campus with close to 20,000 square feet, increasing the bed count from 28 to 91 with separate areas for single men and women as well as a secure family wing. The shelter has tripled the size of the dining room, kitchen and pantry space, enabling the shelter to feed more people in the shelter and the community.
To reach its goal of keeping homelessness episodes brief and rate, the shelter offers diverse programs for its residents including rapid rehousing, family reunification and roommate contracts.
Challenged by the impact of the pandemic on the homeless and hungry population, the shelter worked closely with the Union County Health Department, Emergency Management and Environmental Health to provide additional protections for clients, volunteers and staff. The shelter implemented enhanced cleaning protocols, barrier shields and non-congregate sheltering options. To support the community, the shelter implemented a weekly grocery drive through from its food pantry for anyone in the community experiencing a food hardship.
The new construction of the Community Shelter of Union County received financing from the North Carolina Housing Trust Fund, administered by the North Carolina Housing Finance Agency, along with an additional four million dollars raised by private and public sources including the donation of the property for the facility by the City of Monroe.
Contact: Kathy Bragg, chief executive officer, Community Shelter of Union County, 704-289-5300.
Crescent Magnolia, Hillsborough
Housing shortages can be particularly difficult for seniors often caught between fixed incomes and the rising cost of housing. Crescent Magnolia is addressing this challenge in Orange County, offering 24 seniors the opportunity to purchase a home with an affordable mortgage through Habitat for Humanity of Orange County.
The first Habitat for Humanity development in North Carolina—and among the first in the nation—to provide home ownership opportunities for older adults, this new neighborhood in Hillsborough offers stability for seniors to age in place in partnership with Blue Cross Blue Shield, which provided financing as part of its commitment to improving health and living conditions for all North Carolinians.
All 24 homes are one-bedroom with floor plans ranging from 576 to 782 square feet and ranging in price from $150,000 to $159,000, kept low by Habitat for Humanity's sweat equity model and financing from the NC Housing Finance Agency's Self-Help Loan Pool. Orange County also provided almost $39,000 in down payment assistance with the Orange County affordable housing bond. The open design of the homes accommodates wheelchairs and includes zero-step entry, lowered cabinets and walk-in showers to help owners safely age in place.
Located in the larger Waterstone community, Crescent Magnolia makes it easy for homeowners to enjoy community amenities including sidewalks, a community park, a dog park and close proximity to the downtown area. Located just across the street from the Hillsborough Campus of UNC Health and within walking distance of public transportation, the community provides residents with easy access to their health care providers. Habitat for Humanity of Orange County also hosts workshops for residents including healthy cooking, mental health, neighborhood leadership and home maintenance. Many other Habitat affiliates have shown interest in this model of affordable housing communities.
Contact: Jennifer Player, president and chief executive officer, Habitat for Humanity of Orange County, 919-932-7077 ext. 215.
Piedmont Triad Regional Council, Kernersville
More than a third of adults over the age of 50 pay more than 30% of their income toward housing, and many seniors live in homes not designed for people with mobility or dexterity limitations. Because of this, low-income elderly homeowners often face home safety threats they can't afford to repair. The Piedmont Triad Regional Council addresses these concerns in several central North Carolina counties through its Community Development Department, which helps low-income families, seniors, veterans and people with disabilities repair their homes to prevent displacement.
The Council's investments help at least 125 homeowners annually, addressing safety concerns by replacing septic systems and wells, repairing and replacing roofs, performing lead and asbestos abatement, replacing doors and windows and repairing systems like plumbing, electrical and HVAC. The Council also focuses on accessibility modifications that can help homeowners stay in their homes and avoid costly institutions.
The Piedmont Triad Regional Council assists homeowners in Alamance, Ashe, Caswell, Davie, Davidson, Guilford, Montgomery, Randolph, Rockingham, Stokes, Surry, Wilkes and Yadkin Counties through several programs including the HOME Program, the Weatherization Assistance Program and the NC Housing Finance Agency's Essential Single-Family Rehabilitation Loan Pool and Urgent Repair Program. By layering funding from these sources, the Council maximizes the number of households served and increases their level of service.
             Contact: Ashley Pendley, community development program specialist, Piedmont Triad Regional Council, 336-904-0300.