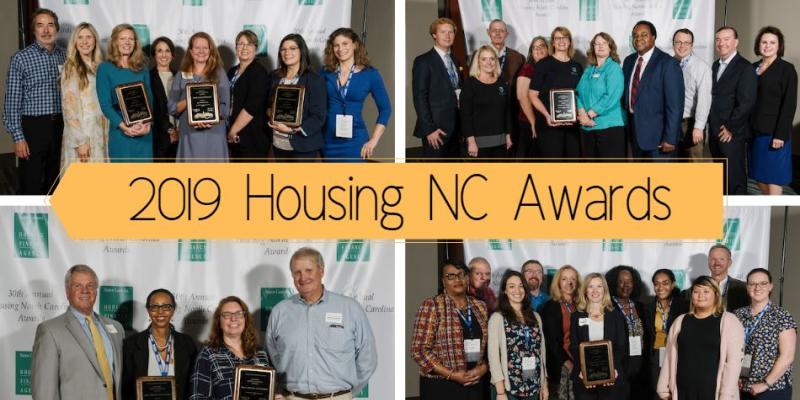 RALEIGH — North Carolina's top honor for excellence in affordable housing has been awarded to four developments and neighborhoods that provide opportunities for home buyers, life-changing repairs for homeowners, apartment homes for seniors and families and permanent supportive housing for adults with intellectual and/or developmental disabilities (IDD).
Now in its 30th year, 2019 Housing North Carolina Awards recognize properties in Ahoskie, Raleigh, Charlotte and Wilmington that serve as models for other communities. The North Carolina Housing Finance Agency presented the awards October 7 during the NC Affordable Housing Conference, which hosted nearly 1,000 housing industry professionals at the Raleigh Convention Center.
Cypress Court, Ahoskie, an affordable apartment development for working families that is the first new Housing Credit development in the town in nine years.
Crosstowne, Raleigh, a community of 119 single-family homes developed by Habitat for Humanity of Wake County to provide affordable housing in the high-cost capitol city.
Urban Ministry Center, Men's Shelter of Charlotte, a full renovation of a 64-year-old shelter for men experiencing homelessness in Charlotte that addressed safety and privacy concerns.
SECU Lakeside Reserve, Wilmington, a development of 40 affordable supportive housing units for chronically homeless adults with disabilities, including seniors and veterans.
Editor: A description of each winner and the contact person follows:
 
Cypress Court, Ahoskie
Like many small towns in the state, Ahoskie faces a shortage of affordable housing options. Developed by Mosaic Development Group, Cypress Court addresses this challenge with 48 homes for working families in Ahoskie that offer rents affordable to families earning 60% or less of Hertford County's area median income.
The development of Cypress Court was not only a welcome source of affordable housing for the area, but also provided ample jobs for the local economy. Of the roughly 200 people who worked on the development, more than 60% were from Ahoskie and nearby Greenville, Hertford, Rocky Mount and Wilson. The development received one of the area's few commercial building permits issued in ten years.
The apartment homes offer plenty of natural light, durable vinyl tile flooring and storage options, as well as Energy Star Certified appliances to keep electric bills affordable, washer/dryer hookups, ceiling fans and water-saving toilets and showers. Residents have access to a computer room, library, fitness center, community room and a screened in porch, an outdoor picnic shelter and a playground and tot lot. The community is walkable, with residents able to walk or take a short drive to grocery stores, pharmacy services, restaurants and retail stores.
Cypress Court was financed with federal and state housing credits awarded by the North Carolina Housing Finance Agency and a loan from Centrant Community Capital.
            Contact: Lisa Lemos, asset manager, Mosaic Development Group, 704-258-2388.
Crosstowne, Raleigh
With more than 100 single-family homes, Crosstowne in Raleigh is the largest single Habitat for Humanity neighborhood in North Carolina. Ranging in size from 1,072 to 1,673 square feet, the three-, four-, five- and six-bedroom homes are built to SystemVision standards to keep energy costs low, contributing to long-term affordability.
Set in a high-cost area, the moderately-priced homes priced from $147,000 to $169,900 are targeted to home buyers with incomes that are 25-80% of the area median income. Potential buyers are tasked with completing 200 hours of sweat equity on their homes and their neighbors' homes and pay affordable mortgages that are set at a maximum of 30% of their income.
A diverse and vibrant community, homeowners in the Crosstowne work for entities including Wake County Public Schools, NC State University and UNC Rex Healthcare. The community is highly sought after due to close proximity to jobs, access to schools and shopping opportunities. Homeowners have easy access to downtown thanks to a GoRaleigh bus stop in the neighborhood.
The North Carolina Housing Finance Agency's Self-Help Loan Pool financed 16 of the homes with zero-interest participation loans.
Contact: Olivia Bowler, director of communications, Habitat for Humanity of Wake County, 919-744-2405
Urban Ministry Center, Men's Shelter of Charlotte
Starting out in 1987 as a retrofit of a former plumbing storage warehouse dating back to 1953, the 64-year-old structure of the Men's Shelter of Charlotte's North Tryon Street Shelter needed significant rehabilitation by 2008. The roof, electrical systems, piping and ventilation were all in need of repair and replacement, and safety and privacy concerns kept many people in need from seeking shelter there.
The structure that stands today is almost completely unrecognizable. The significant renovation of the Men's Shelter of Charlotte, a process taking four-and-a-half months, improved functionality in the shelter to help move men quickly from emergency situations to stable and permanent housing. Critical repairs were made to improve the safety of the building. Well lit by large windows and LED light fixtures, the space feels large and warm thanks to higher ceilings, outdoor seating with landscaping and architectural touches.
The overhaul included a completely renovated kitchen with new equipment to serve guests at the shelter, while the dining room has been transformed into a multipurpose room. Also included for guests are amenities like the shelter's new Housing and Employee Resource Center and offices where employees provide supportive services including medical services and case work to help guests at the shelter get back on their feet. New pod-style bedrooms allow guests to have privacy including lockers, underbed storage, a reading light and a power outlet, and individual showers help guests retain their dignity in the face of difficult circumstances.
Following the renovation, the Men's Shelter of Charlotte merged with the Urban Ministry Center to better address homelessness with a unified voice and combined resources.
The shelter renovation received financing from the North Carolina Housing Trust Fund and the City of Charlotte, as well as from individual and organizational donors.
Contact: Randall Hitt, chief engagement officer, Urban Ministry Center, Men's Shelter of Charlotte, 704-334-3187 x 109
SECU Lakeside Reserve, Wilmington
SECU Lakeside Reserve, developed by Good Shepherd Center with support from the SECU Foundation and the City of Wilmington, offers 40 affordable supportive housing apartments for homeless adults with disabilities, including seniors and military veterans. The one-story, accessible buildings are nestled into the Wilmington community with a coastal cottage feel and include energy-efficient measures and building materials that reduce maintenance expenses and better endure severe weather.
The one-bedroom apartments offer residents independence with a kitchen, bathroom, living room, bedroom and storage area in each unit, as well as a community room that features a full kitchen, computers, TV room and laundry facilities. Residents enjoy secure entry through a breezeway in each building, and the community includes beautiful landscaping, outdoor seating areas and easy access to recreational facilities including a walking path. Downtown Wilmington, with medical facilities, job opportunities and shopping, is just two miles away, putting residents within range of supportive services and medical care. Onsite case management and supportive services such as counseling and transportation are provided by Good Shepard Center staff.
Monthly rents are capped at 30% of residents' income, providing an affordable option in an area where the median rent averages more than $900 per month. This helps residents afford other necessities, such as food and health care.  
SECU Lakeside Reserve received local, state and federal funding, including dollars from the North Carolina Housing Trust Fund. The SECU Foundation and a large capital campaign also helped to finance the development.
             Contact: Jane Birnbach, senior development director, Good Shepherd Center, 910-763-4424.