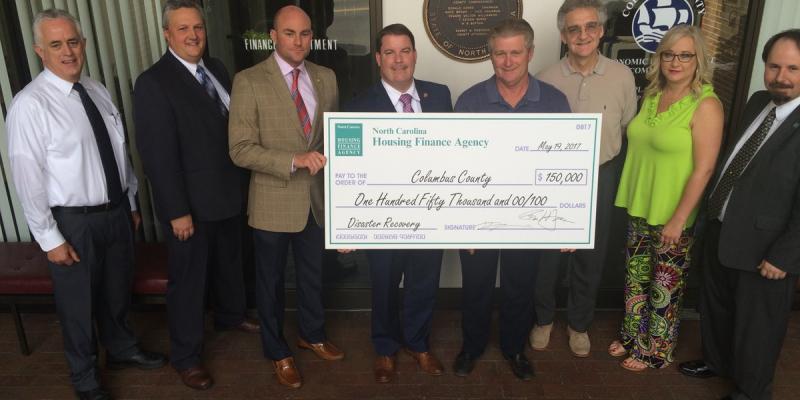 The North Carolina Housing Finance Agency will award Columbus County $150,000 on May 19 to fund disaster relief efforts in the area. In attendance will be Senator Danny Britt and Representative Brenden Jones.
A ceremonial check will be presented during a 9:30 a.m. ceremony at 111 Washington Street in Whiteville. These funds will be used to repair owner-occupied homes in Columbus County that were damaged by Hurricane Matthew. Once these funds are exhausted, Columbus County can then draw from a $15 million loan pool to conduct further repairs for citizens in need.
"We are pleased to award these funds to Columbus County to help with disaster recovery efforts in communities that were hard hit last year by natural disaster," said Scott Farmer, executive director of the NC Housing Finance Agency. "With strong partners like Columbus County, we will be able to help many North Carolinians whose homes were damaged by Hurricane Matthew and Tropical Storms Julia and Hermine."
In December, the General Assembly appropriated $20 million to the Housing Trust Fund as part of the Disaster Recovery Act of 2016. Administered by the North Carolina Housing Finance Agency, these Housing Trust Fund dollars were allocated to local organizations to help repair homes damaged by natural disasters statewide. Assistance is available for households with incomes below 100% of their area's median income and whose homes are owner-occupied.
Eligible homeowners in the area who have experienced damage from Hurricane Matthew may access assistance by contacting Columbus County. Homeowners outside the area who have been impacted can find a local organization providing home repair assistance at http://www.nchfa.com/current-homeowners/repairing-your-home.  
The North Carolina Housing Finance Agency, a self-supporting public agency, has financed 255,000 homes and apartments since its creation in 1973.