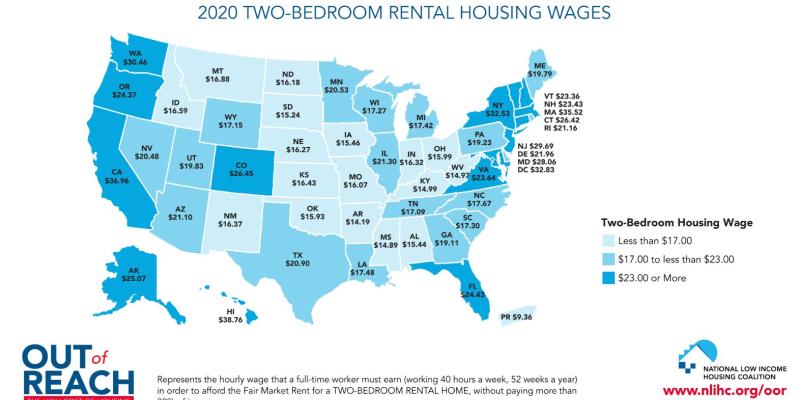 Since 1989, the National Low-Income Housing Coalition has been drawing attention to the divide between actual wages and what people need to earn to afford their rent with its annual "Out of Reach" report, documenting how affordable homes are out of reach to low-income households. The organization's 2020 report is no exception, reaffirming that housing remains unaffordable for many low-income Americans, independent of the COVID-19 pandemic and subsequent economic downturn.
The Out of Reach "Housing Wage" is an estimate of the hourly wage a full-time worker needs to earn to afford rent without spending more than 30 percent of their income on housing that is priced at HUD's Fair Market Rents. North Carolina ranks 28th in the highest Housing Wage needed to afford a modest two-bedroom apartment at a fair market rent of $919 per month. Assuming a 40-hour a week schedule, 52 weeks a year, a North Carolina worker needs to earn an hourly Housing Wage of $17.67 per hour. The state's current $7.25 minimum wage would require this same worker to work 97 hours per week to afford a two-bedroom rental. However, rents are not equal across the state, and more expensive areas such as Asheville, Raleigh or Currituck County require a higher Housing Wage for workers to afford fair market rents.
The economic downturn has put these low-income wage earners at even higher risk of housing instability and homelessness. During the first six weeks of the shutdown, 28 million unemployment claims were filed across the nation, increasing the unemployment rate to 14.7 percent in April, and then down slightly to 13.3 percent in May. However, that slight improvement did not benefit people of color. Black, Asian and Latino unemployment rates all remained higher than the national average, 16.8 percent, 15 percent and 17.6 percent, respectively, making it even more difficult for these groups to afford their rent.
The report also points out how COVID-19 pandemic is affecting people of color disproportionately with higher mortality rates due to pre-existing systemic inequalities, such as access to health care, increased exposure through low-wage, frontline jobs and limited housing options. According to the latest HUD Point in Time Count (PIT), more than 200,000 homeless people across the nation have nowhere to self-isolate and recover from the virus. An additional 356,000 people in emergency shelters have a limited ability to self-isolate and social distance. While Black Americans account for 13 percent of the US population, they comprise nearly 40 percent of the homeless population. Latinos are 18 percent of the population but account for 22 percent of the homeless population.
Another concern is the impact of overcrowding: the latest US Census Bureau – American Community Survey (5-Year Estimate) indicates that nearly 2.7 million renter households are experiencing overcrowded living conditions that make it nearly impossible to social distance. People of color are disproportionately impacted—Latino households are 12 percent of the population but account for nearly 43 percent of overcrowded households, while Asian households are 4 percent of all households but account for 10 percent of overcrowded households. This overcrowding decreases their ability to self-isolate during the pandemic, thus increasing their exposure to the virus.
The North Carolina Housing Finance Agency finances the development of affordable rental housing for working families, seniors and people with disabilities and other special needs throughout the state. While we do not directly offer rental housing, we provide resources for finding housing, obtaining rent assistance and understanding renter rights and responsibilities. Learn More.