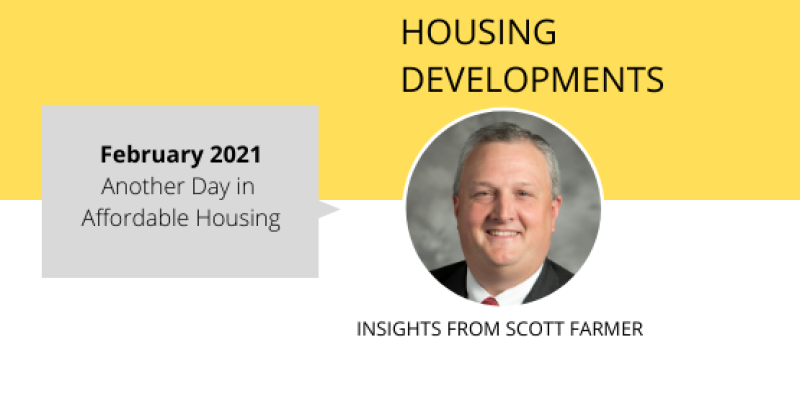 With February comes the tradition of Groundhog Day. This year's results were mixed: the famous Punxsutawney Phil saw his shadow, meaning six more weeks of winter, while Raleigh's Sir Walter Wally saw no shadow, predicting an early spring. When many of us think of Groundhog Day, though, we may be more likely to recall the 1993 film in which Bill Murray is forced to relive the same day over and over. Certainly, in the time since the pandemic began shutting down life as we knew it, it has often felt as if we are reliving the same day.  
While this Groundhog Day effect feels like it may be with us for the foreseeable future, there are hopeful signs.
Vaccinations are starting to ramp up, and more vaccines from additional companies are reaching the approval stage. Federal and state eviction moratoriums have been extended until the end of March, and mortgage forbearances have been extended until the end of February or March, depending on which federal agency backs the loan. These measures will provide temporary relief as federal and state officials work on measures to help those hit hard by the pandemic's economic impacts.
At the Agency, our work continues. The 2021 tax credit award process is underway with 192 applications received. We will soon award the Essential Single-Family Rehabilitation Loan Pool to our local partners with the Urgent Repair Program awards coming later this spring. Based on pre-applications, we are anticipating a record number of applications for the Supportive Housing Development Program in March and expect to make awards early this summer.
With the housing market predicted to remain strong for sellers and inventory still low, our work helping low- and moderate-income home buyers remains vital. The Agency has provided $10 million for the Community Partners Loan Pool and $10 million for the Self-Help Loan Pool. In addition to helping hundreds of home buyers each year, these programs help to create new neighborhoods and boost older communities. The NC Home Advantage Mortgage™ with up to 5% down payment assistance and the $8,000 NC 1st Home Advantage Down Payment continue to be invaluable to helping buyers with lower incomes purchase homes.  
We also will be holding the NC Affordable Housing Conference, postponed from 2020, on October 14–15. In an abundance of caution and in response to last month's conference survey results, we are planning a virtual event. While we will miss the opportunity to meet in-person, this event will still provide top-notch speakers, cutting-edge sessions and a unique platform for networking. Mark your calendar and stay tuned for updates!
While this year will continue many of the challenges of last year, and undoubtedly bring more of its own, we are well-positioned as an Agency to meet the challenges and continue our work with our valued partners statewide to increase affordable housing opportunities for North Carolinians.