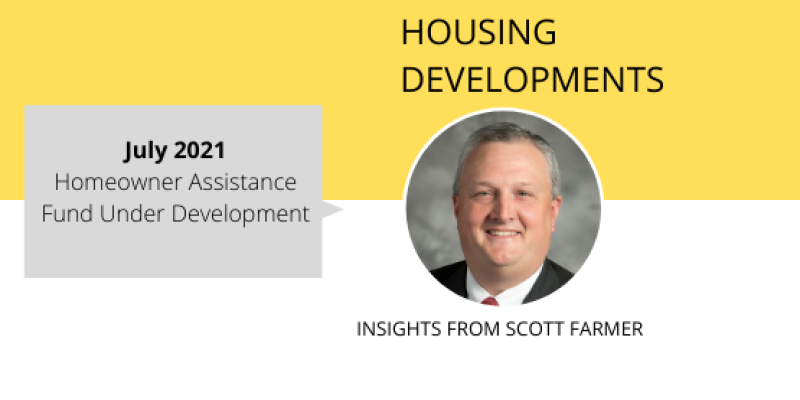 One of the economic impacts of the pandemic has been the inability for those most affected to pay their mortgage. While the state is beginning to show signs of recovery, nearly 250,000 North Carolina homeowners are still behind on their payments or are already in foreclosure. COVID-19 economic impacts are evident in many communities across the state, especially those reliant on hard-hit industries like recreation and tourism, and among socially disadvantaged households who were disproportionately affected by COVID-19 infection rates and job loss.
This spring, North Carolina was allocated $273 million from the Homeowner Assistance Fund (HAF), which was established through the American Rescue Plan (ARP) to prevent mortgage delinquencies, defaults, displacements, and foreclosures for homeowners experiencing financial difficulties after January 21, 2020, due to the pandemic. This program is being supported, in whole or in part, by federal award number HAF0019 awarded to the State of North Carolina by the US Department of the Treasury.
Following passage of ARP, the NC Pandemic Recovery Office (NCPRO) was designated as the eligible entity to receive these funds from Treasury on behalf of North Carolina and the NC General Assembly approved our Agency to serve as administrator of the HAF funding.
Relying on the initial guidance provide by Treasury, we started developing the program with special emphasis on the homeowner needs assessment and targeted outreach. The needs are very different than they were more than a decade ago following the Great Recession and this new program will reflect that, with its scope defined much differently by Treasury.
To be eligible, homeowners must earn no more than 150% of the area median income (AMI), with at least 60% of the funds targeted to homeowners who earn less than 100% of the AMI, or the median income of the United States ($79,900), whichever is greater. Treasury guidelines also require the HAF program to prioritize socially disadvantaged individuals, defined by the Small Business Administration as individuals who self-identify as Black, Hispanic, Asian Pacific Islander or Native Americans.
With a successful history helping homeowners and Treasury's parameters as our guide, we designed a program to assist low- to moderate-income and socially disadvantaged homeowners statewide.  We sought public comment on program design and outreach strategies from individuals and groups that work with homeowners, including mortgage partners, service providers/potential referring agencies, and membership organizations representing socially disadvantaged homeowners.   We reached out to our longstanding partners and found a few new ones, all towards the goal of ensuring those who need assistance will have access to it.
So where are we now?  We are finalizing our proposal based on input received and will submit it to Treasury by its July 31 deadline. While we don't know how long the review process will take, we are working on building the program and so we are ready to move forward after Treasury approval. We appreciate the input from our partners and look forward to working together to get these funds to the homeowners who need them.
In the meantime, if you hear from homeowners who need help, please encourage them to contact the State Home Foreclosure Prevention Project (1-888-442-8188), which offers free housing counseling and can work with servicers on homeowners' behalf.