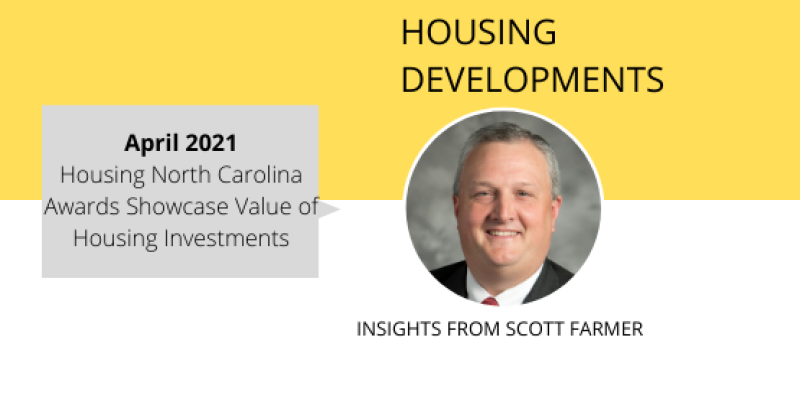 The Housing North Carolina Awards not only recognize the best of the state's affordable housing, they also enable us to deliver our message outside our industry and show how public-private partnerships can successfully meet critical housing needs and grow our economy by supporting jobs and generating tax revenue. More than 170 properties have been honored over the decades, inspiring and representing our industry by demonstrating the highest achievements in affordable housing development and showcasing its impact in North Carolina.
These winners show how affordable housing investments can address differing needs in diverse areas from Belhaven on the coast to Burnsville in the mountains, highlighting the positive impacts of housing in both our larger metro areas and our rural communities.  
Last year's winners illustrated the attractiveness of the housing we finance and its positive impact on communities. Greenfield Community, a two-phase community for families and seniors in Chapel Hill provides easy access to schools, employment, medical facilities and transportation options.
Crescent Magnolia in Hillsborough is the first Habitat for Humanity development in North Carolina—and among the first in the nation—to offer home ownership opportunities for older adults who need stability and permanence for seniors to truly age in place.
The new Community Shelter of Union County continued the work of the existing shelter with a 20,000-foot campus providing short-term shelter for single adults and families while working to move them into independent, permanent housing. Challenged by the pandemic, the shelter provided additional protections for clients, volunteers and staff and supported the local community with a weekly grocery drive-thru from its pantry.
Hundreds of homeowners in nine central North Carolina counties have been able to age in place thanks to the Piedmont Triad Regional Council's work addressing health and safety threats in their homes.
The Housing North Carolina Awards program is a valuable conduit for sharing development, design and financing ideas that can be replicated in other communities. For more than 30 years, the Awards have celebrated vital housing investments that improve lives, enrich communities and spark economic growth.  
We continue that tradition today with the launch of the 2021 awards. We are seeking nominations for Rental Production, Supportive Housing Production and Home Ownership Impact. The rental and supportive housing categories will continue to recognize the best developments, while the home ownership category encompasses a broader range of investments that have made a significant impact in a neighborhood and community. These investments can include new construction, acquisition rehab, home buyer initiatives, owner-occupied rehab or a combination of those initiatives.   
We have made the entry process easier than ever with an online submission portal that will allow nominators to upload everything needed to support entries. I encourage all of our partners to consider entering the awards, whether it be for your property or for one that you admire. We look forward to sharing the very best of North Carolina's affordable housing communities once again this fall.