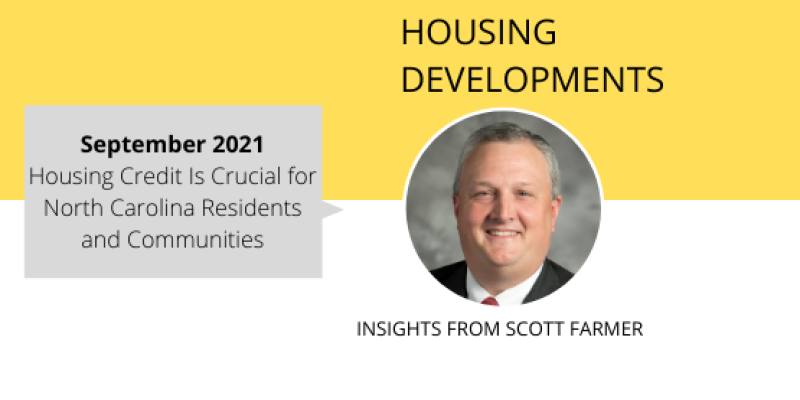 The Low-Income Housing Tax Credit (Housing Credit) program has long been one of the most important resources for creating affordable housing. Created by the Tax Reform Act of 1986, the Housing Credit provides the equivalent of approximately $8 billion in annual budget authority nationwide to issue tax credits for the acquisition, rehabilitation, or new construction of rental housing targeted to lower-income households.
In North Carolina, the Housing Credit has financed 109,700 apartment homes for working families, seniors, formerly homeless veterans and persons with disabilities with low incomes. By lowering rent burdens, the Housing Credit helps increase financial security for residents, helping them to remain employed and build savings. Benefits extend beyond financial. Affordable options have also been shown to reduce frequent moves, which can support school attendance and improve educational outcomes. In addition, given housing's role as a social determinant of health, the Housing Credit's financing of well-constructed, well-maintained, stable housing has been shown to improve health and reduce health care costs.
The Housing Credit has had a far-reaching impact on North Carolina, acting as an economic driver, particularly in rural regions of the state. Since its inception, it has supported 187,060 jobs in the state and generated $1.1 Billion in state and local tax revenue. Communities have benefitted: research shows Housing Credit properties can increase property value of adjacent homes and reduce property and violent crime.
The Housing Credit is one of our most effective tools to address a worsening shortage of affordable rental housing. This year, the Agency awarded Housing Credits and other financing that will build $1.4 billion of affordable apartments in 29 North Carolina counties. The resulting 7,442 apartments will help address the shortage of affordable housing options, bringing the number of Housing Credit apartments in the state to 116,400.
But more will need to be done. The pandemic and its economic impacts have exacerbated the shortage of affordable housing, decreasing options for low-income renters. Measures are being proposed at the federal level, including the Affordable Housing Credit Improvement Act of 2021, which would expand and strengthen the Housing Credit by raising the volume cap by 50 percent and lowering the bond financing threshold to 25 percent, the proposed legislation would also make other programmatic changes to allow the Housing Credit to better serve hard-to-reach populations, streamline program rules, and preserve more affordable housing.
As these and other measures are considered to improve the Housing Credit and expand its reach, the Agency will continue working with our partners to produce more affordable rental options for working families, seniors, veterans and people with disabilities. We look forward to the opening of the 68 recently approved apartment developments and the benefits they will bring for their residents and communities.