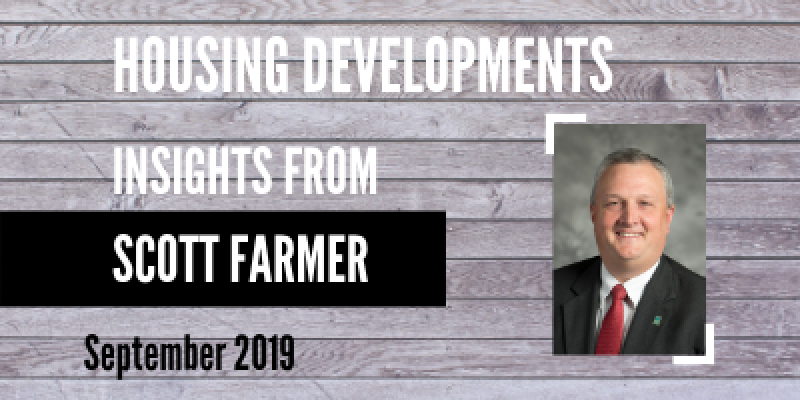 The 2019 North Carolina Affordable Housing Conference sets up shop at the Raleigh Convention Center on October 7 and 8 and promises to be the best one yet.
More than a decade ago, our Agency joined forces with Centrant Community Capital and the NC Housing Coalition to merge our three annual meetings into one and since then, we've been proud to sponsor one of the premier affordable housing conferences in the Southeast. 
This annual event attracts nearly 1,000 housing professionals from across the state—developers, nonprofit and local government leaders, lenders and real estate agents, housing counselors and more—and provides a unique opportunity for us all to learn from today's top housing experts as well as each other.
As the conference has grown, our message and education have broadened. It was not long ago that our keynote speakers and breakout sessions were emphasizing the need for affordable housing and how to communicate that need. Today, that message has been transformed. With the country's growing affordability crisis as a constant media story and policymaker discussion point, we don't need to point out the lack of housing options. Instead, we need to make the case for housing by discussing its broader impacts and showcasing successful outcomes.
This year's conference will do just that, kicking off with keynote speaker Laura Clark, president and CEO of the United Way of the Carolinas. Clark is transforming the organization's community impact strategy, with a focus on building stronger neighborhoods. In her prior role as CEO of the Renaissance West Community Initiative, she led a comprehensive revitalization of the Renaissance neighborhood in west Charlotte, including mixed-income housing and services such as financial education, job training, health and mental health services and after-school programming. Clark will share her experiences and lessons learned, highlighting the role that housing plays in improving family financial, education and health outcomes and building strong communities.
Breakout sessions will build on this message, sharing how partnerships are addressing community needs, the impacts of housing on health care delivery, costs and outcomes and the latest research on housing for an aging population. Mixed in will be how-tos for rental housing development and management, home ownership programs and new housing stock development, including a toolkit for local leaders and case studies on the successful use of housing bonds. Sessions will also explore energy efficiency measures that improve your bottom line and innovative training programs to address the growing shortage of contractors and builders.
We'll wrap up with our Industry Update featuring Emily Cadik, executive director of the Affordable Housing Tax Credit Coalition, who will share her organization's efforts to advance Housing Credit legislation on Capitol Hill and insights on the opportunity we all have to move the needle on affordable housing.  
You'll also have the opportunity to learn and be inspired at our Housing North Carolina Awards luncheon, which will recognize the state's best in affordable housing, and at the NC Housing Coalition's annual awards breakfast, where this year's exceptional housing advocates will be recognized. Add in the many opportunities to network with your colleagues across the state and the chance to interact with vendors from across the country and this really is a can't-miss event.
I encourage you to attend and to bring others who would benefit from this once-a-year opportunity. Early bird registration ends on Monday, September 9, so don't wait to secure your spot. I look forward to seeing you on October 7 and 8 in Raleigh!