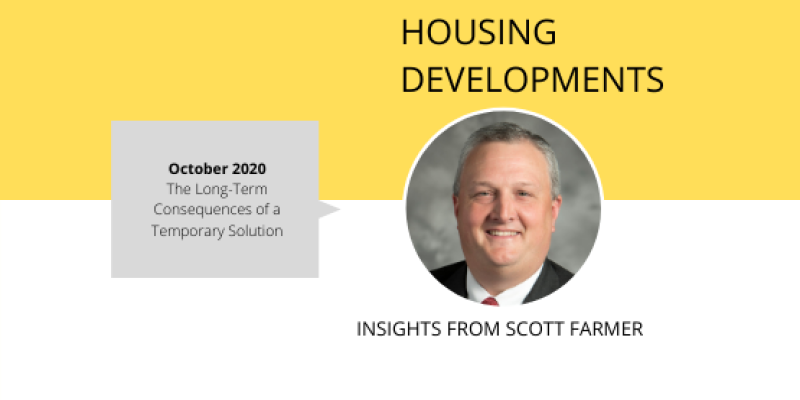 As the pandemic and its economic fallout continues, millions of American homeowners and renters are in danger of losing the roofs over their heads in the very near future. While forbearance plans are addressing rising mortgage delinquency rates and the CDC's eviction moratorium is keeping struggling renters in their homes, those measures are only temporary stopgaps. When they end, foreclosure filings and evictions are projected to skyrocket, impacting not just homeowners and renters, but the companies and individuals that own and manage affected properties, as well as the lenders who financed these properties. 
Housing experts have expressed concern over rising mortgage delinquency rates for months. At the end of the second quarter of this year, the North Carolina rate was 7.46%, a jump of more than 3% over the first quarter. Particularly troubling is that delinquencies between 60 and 89 days doubled while those delinquent more than 90 days tripled in that time period.
One tactic employed to address delinquencies has been forbearance. The Mortgage Bankers Association estimates 3.5 million homeowners across the country are in forbearance plans. While this gives homeowners some breathing room, many of them may still be unemployed or financially struggling when their forbearance period ends, leaving them facing foreclosure and needing mortgage payment help.
The potential plight for renters is equally dire. While the CDC moratorium halted evictions until December 31, that only kicks the proverbial can down the road. Come January, renters will not only be back on the hook for their monthly rent payment, but it will include past-due rent that accumulated during the moratorium and any associated fees. A new report from the National Council of State Housing Agencies estimates that U.S. renters will owe $34 billion in past-due rent at the start of 2021, with eviction filings expected on more than 8 million households. In North Carolina, the estimated rent shortfall could go as high as $824 million, with 240,000 households facing eviction. For those individuals and families who are evicted from their homes, the road to recovery is long. Negative marks on their credit make it almost impossible to find a place to live in the future, and homelessness could be a very real outcome for many.
The housing ecosystem is fragile, with all facets intrinsically tied together. Take money from one level, in this case those paying for housing, and the system starts falling apart. The pressure on small business is immense. Property owners and managers not receiving rent payments can't pay their own expenses and their employees are then in danger of job loss. Foreclosures also pose a significant cost for banks.
Many experts say we are on the cusp of a potential housing crisis that could eclipse that of the Great Recession. What helped us then is what can help us now - an investment of resources designed to jumpstart stalled affordable development and to provide financial assistance for people facing temporary financial hardships while they got back on their feet.
Timing is crucial. If we are to get homeowners, renters, small businesses, property owners and managers through the current crisis, the housing industry will need a significant investment of state and federal resources and the freedom to deploy those resources as needed so that we can establish a safety net as quickly as possible.