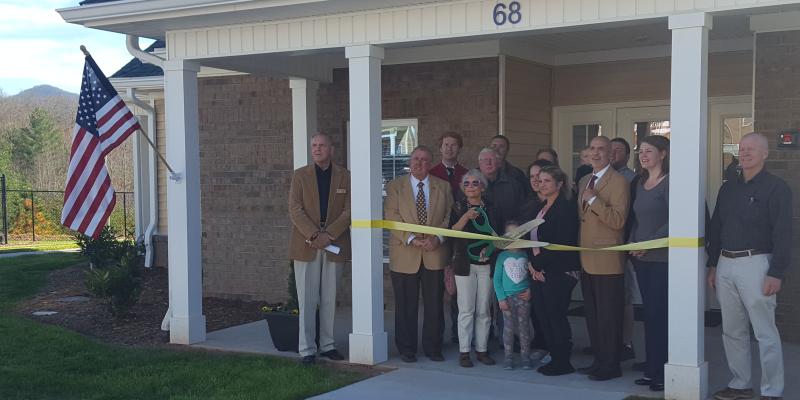 A dedication ceremony for Indigo, which offers 60 new apartments for working families in Franklin, will be held Friday, November 17, at 2 p.m. The community was developed by Workforce Homestead using Housing Credits awarded by the NC Housing Finance Agency. In attendance will be Beverly Elliott from the office of Congressman Mark Meadows, and board member Bill Oglesby will speak on behalf of the Agency.
Indigo consists of 12 one-bedroom, 30 two-bedroom and 18 three-bedroom apartment homes for working families with incomes at $33,120 and below for a family of four. Indigo offers many amenities for residents including a community building, playground, tot lot, covered picnic areas and is a 100% smoke-free community that meets the requirements for project-wide Energy Star 2.0 certification. Indigo is conveniently located on Siler Road in an area of Franklin experiencing rapid growth.
The $7.6 million development was financed in large part by federal tax credits and other state loans awarded by the NC Housing Finance Agency. The Agency finances the statewide construction of thousands of affordable apartments annually using Housing Credits, the state's Workforce Housing Loan Program, low-interest loans and tax-exempt bond allocations.
"The Agency is excited to celebrate the dedication of such a great community for working families," said Scott Farmer, executive director of the NC Housing Finance Agency. "Indigo will provide much-needed safe and affordable homes for Franklin's workforce."
Date/Time/Location:
November 17, 2017, 2 p.m., 599 Siler Road, Franklin
Onsite Contact:
Troy Hershberger, 919-981-2647
For more information about the Agency's affordable housing investments, visit www.nchfa.com.
The North Carolina Housing Finance Agency, a self-supporting public agency, has financed 255,000 homes and apartments since its creation in 1973.