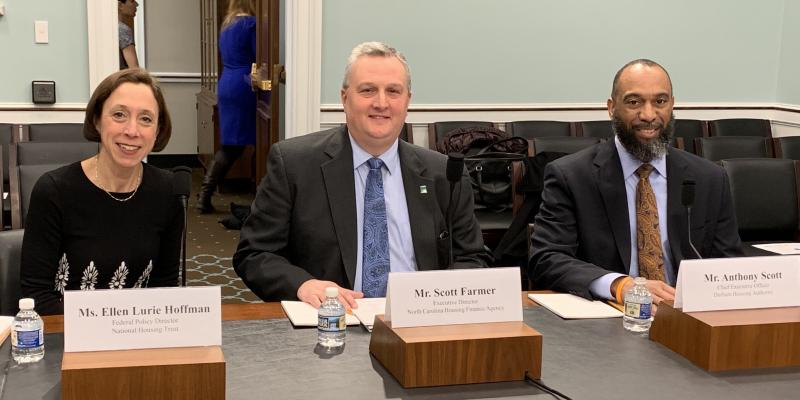 On Thursday, March 7, Executive Director Scott Farmer testified before the Subcommittee on Transportation, Housing and Urban Development and Related Agencies Committee on Appropriations at the Rayburn House Office Building in Washington, D.C. Speaking alongside Ellen Lurie Hoffman of the National Housing Trust and Anthony Scott of the Durham Housing Authority, Farmer spoke on the need for affordable housing nationwide and in the state of North Carolina, and how state Housing Finance Agencies use federal programs to leverage private market resources for affordable housing. 
"Housing builds strong communities, supports families, and drives our nation's economy," Farmer said in his testimony. "Housing contributes to social mobility, educational attainment and health care access and outcomes."
During the testimony, Farmer, Scott and Hoffman were questioned by Chairman David Price, Ranking Member Diaz-Balart and various Honorable Members of the subcommittee about their experience with affordable housing development and preservation, problems they have faced and changes they would like to see. 
Also discussed were creative approaches to affordable housing, including single-occupancy hotel rooms, tiny homes and other strategies in the hopes that more strategies would alleviate the dependence on existing programs.
"These programs are all over-subscribed," Farmer said. "The current Housing Credit allocation levels limit our ability to finance new construction and preserve aging housing stock. Expanding Housing Credits and increasing other federal funding sources would allow us to leverage private market resources to address the most urgent housing needs for our most vulnerable citizens. Given housing's impact on the economy and its influence on education and health, preserving and expanding successful programs promises to deliver an exceptional return on investment." 
Learn more about the Agency's investments and impacts.